by Urizenus Sklar on 10/11/06 at 8:17 pm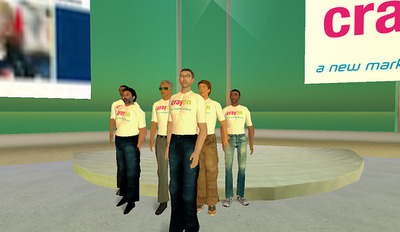 The Crayonista Street Gang Showing their Colors on the Mean Streets of SL
Wowzers, those Crayonistas sure have their own style of smack talk. It's the sort of raw, unvarnished street talk you might hear on Madison Avenue in front of Paul Stuart's (certainly nothing you would hear in front of Brooks Brothers). In a 78 minute long snoozecast called the For Immediate Release: Hobson and Holtz Report they did a lot of dissing of other people's podcasts (glass house, rock, don't throw), and then eventually (i.e. just after the halfway mark) got around to talking about Second Life and Uri's typist in particular, and what they said was not very nice. First of all we had the following remarkable bit from Shel Holtz:
I saw a post on somebody's blog about the Nissan promotion in second life. What Nissan did was put up a huge vending machine, and they had, I think it was a thousand and one Sentras that you could get out of the vending machine. And what they said was that Nissan came in here without understanding the economy of Second Life – there are people who build and sell cars and by giving away a thousand cars you've disrupted that economy and the comment was that Nissan is one of those organizations that is going to have to learn. And I shook my head and I said no, I think the existing residents are going to have to learn.
And then they got to hating on the Second Life Herald…
Neville "first corporation to launch in Second Life" Hobson was hating all over the Herald, calling it and in particular my typist "foul mouthed" and accused the Herald of containing rabid commentary and even using words that can't be repeated "in a family podcast." Shockers! The case that Neville used to illustrate all this however was the contrast between Eric Rice's post taking the Guardian to task for blindly repeating the claim of Axel Springer that it was lauching the first tabloid in Second Life. Apparently he thought Eric called out the Guardian in a reasoned way and I, by contrast, was rabid and vituperative. The only problem is that *I* didn't write that article, Prok did. And Prok didn't break out his potty mouth for that story. But wait, let's roll the videotape and see what Eric said:
So Jess and the Guardian, please correct your article. And Axel Spring, correct this, or, as we like to say 'round these parts, shut the fuck up[emphasis his].
Blimey, Neville has a brain like a salad spinner. Stuff goes in, and it gets all mixed up, and who knows what comes out. Which is not to say that we aren't in love with the F-bomb.
But getting to the main point, and both Shel and Neville actually had one, it seems to be that they think this is just like the old days when the AOL newbies came onto the internet and everyone hated on them. Problem is, the analogy fails miserably. The noobs came in and they eventually learned some nettiquette and in a few months we loved them — we even stopped calling them AOL-holes. But note that they didn't come in like a bunch of arrogant pricks claiming they were the first people there or that they invented virtual communities or anything else. That is the issue here. I certainly welcome corporations and PR firms into SL. I just wish they would check their fat fucking egos at the door, try to get one or two facts straight, and spend some time trying to learn about this amazing new space rather than walking in on day one and telling us "you guys need to learn." If my "potty mouth" makes them not want to have a conversation with me that's fine. There are supposedly a million other SL residents they can talk to. But I doubt they will. They already know everything.