by Alphaville Herald on 18/02/07 at 6:20 pm
by Jimbo Quality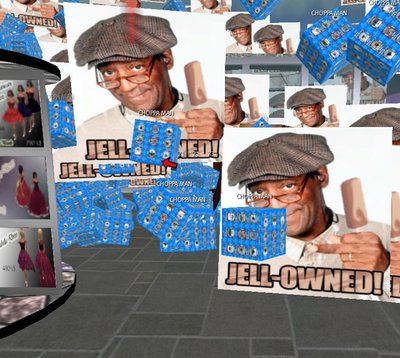 [Editor's Note: Jimbo's investigation into the perpetrators of the attack described below is continuing. As is the Herald's into how this guy get to write for our paper in the first place.
--Walker Spaight]
If you're like me, you often find yourself camping a camping chair at a place like the LV Casino »in Baeogae«. It was almost 9:00pm SL time on a recent Saturday evening when I was doing just that, standing next to a camper's chair, hoping to beat her back into it when the last of her active cycles ran out and the chair kicked her out like an extra ball in an old pinball machine. After all, good camp chairs are hard to find.
I'd been a little nervous that I wasn't going to get a chair at all. But then, across the smoky casino floor I spotted her. She'd been there a while, her idle cycles were almost used up and she was nodding off into the AFK mode. I stood next to the chair, waiting, watching for the telltale signs that she was about to go down.
All of a sudden I was accosted by a zillion Bill Cosbys.
Before I know it, I was standing outside the casino being hit on the head by ol' Cliff Huxtable himself — and then things started to get strange. There were explosions, disturbing images of someone's distended posterior, and, most disturbing of all, a reporter from a rival newspaper and an angry little avatar with a protest sign right in the middle of it all.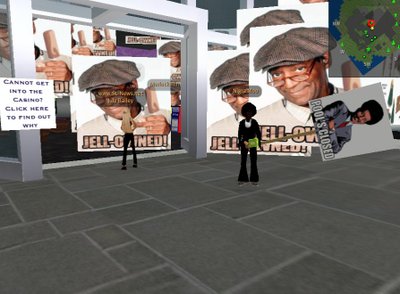 All the while, the Coz kept right on a coming.
Now, I think Bill Cosby is a genius. He gave us Fat Albert, and he may also have invented the Prince Albert in a Can prank telephone call. [Or maybe not -- Ed.] His 1980s television show character, Clff Huxtable, single handedly gave all the ugly sweaters in my closet hope that they too would one day be seen as "fun" and not just "ugly." His remarkable vocal harmonies with his band, Cosby, Stills, Nash and Young, produced a timeless body of music [My kingdom for a fact-checker -- Ed.], and I believe that his most famous song, the civil rights anthem "White Christmas," is still the biggest selling single ever. [Ummm . . . -- Ed.] I was very upset to think that he was attacking me as I tried to earn a few Lindens, so as I watched my screen fill with images of my hero, I fought back tears and wondered, "Why would Bill do this to me?"
My next thought was, "I wonder if that chick is still in the camping chair." Throwing caution to the wind, I trundled toward the casino and found myself unable to get back in! The images and explosions were thick now, and the entrance to the casino was so jammed with Cosbys and explosions that I couldn't get near the door. "Damn my luck!" I thought. I could feel the Lindens slipping through my fingers.
As I stood there, the explosions increased, and images continued to flood my screen for several minutes. The other reporter and the angry little man were very close to what appeared to be the center of the thing, so I retreated to safety to watch. I mean, if one of them is actually blown up into little avatar chunks then someone has to stay alive to tell the story, right?
Once I established that nothing new or exciting was going to happen, and once I realized I was too chicken to try and get back into the casino with explosions in my way, I went home. Ten minutes later, I went back to the LV Casino to investigate, and found that the attack was over and, miraculously, the camping chairs were all empty! I hopped up in one and got busy detecting.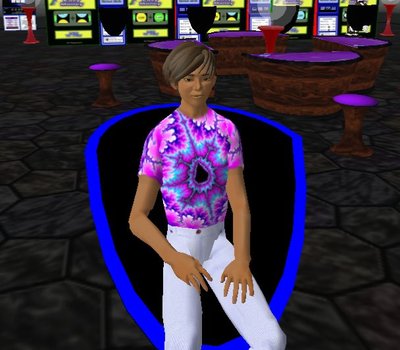 Now, Dear Readers, it may come as a surprise to you, but I believe I am one of the great detective minds of this century. Every day I expect the phone to ring and I'll hear the voice of Gil Grissom, or one of the supernerds on the Criminal Minds show, and they'll be begging me to join their team. (Truth be told, I really want Freddie to call and ask me to join Scooby and Shaggy and the rest of the gang. Mmmmm, Velmam you are so hot, if you read this, call me baby, please!)
Anyhow, as I sat in the chair I launched my investigation, assembling a few incisive theories as to who might have launched this attack and why. The unusual suspects:
Bill Cosby — The most obvious candidate. For that reason, I eliminate him.
The Angry Little Man — A lot of lesser minds would overlook this guy, but not me. He would my top suspect in this case, except for three things. Number one, all the standard police procedures say that the spouse is always top suspect and not only am I not married to him, I've never even heard of him. Number two, he was holding a protest sign, and anyone flinging that many Cosby pictures would need two hands. Number three, on Law and Order it's always the guest star that commits the crime, and again, I've never heard of this guy. Clearly innocent.
The Rival News Correspondent — She was conveniently right there at the center of it all, and everyone knows you can't trust a reporter. If I didn't have better suspects all lined up, I'd blame her. She also works for the yucky other paper.
The Chick in the Camping Chair — It's possible she was only pretending to be "away" and knew I was going to pounce into her chair with catlike reflexes, so she bombed the place with Cosbys to distract us all.
The Yogurt Industry — Here's my #2 suspect. Bill Cosby sold millions of packages of Jell-O brand pudding, and everyone knows that that market share comes at the expense of all the other members of that same "eaten with a spoon from a plastic container" food group. It is my belief that yogurt industry executives could have banded together and started a program to defame Mr. Cosby here in SL.
Someone Altogether Different — My leading suspect, at this point. I think it's quite possible that someone besides the other people on my list could have been responsible for this. I base this on the fact that that's always how it happens when I watch TV crime shows. I always think it's suspect A, B, D, E, or F and it's always C.
Of course, all this is only speculation at this point. I'm not actually accusing anyone of anything, and I think the above-named individuals are, at this point, great people with lots of civic pride and other good things going for them. They should not feel angry or harmed or anything, because I love them and would take them all out for a nice lunch if avatars could eat. We'd even have yogurt and Jell-O, showing that the two can peacefully coexist. Please don't sue me.
And remember, Dear Readers, always bring a towel — and if you know of any good camping chairs, give me a holler.