by Alphaville Herald on 20/06/07 at 6:15 pm
by Flimflam Edelman, Bureau of Casinos, Scams, and Dodgy Dealings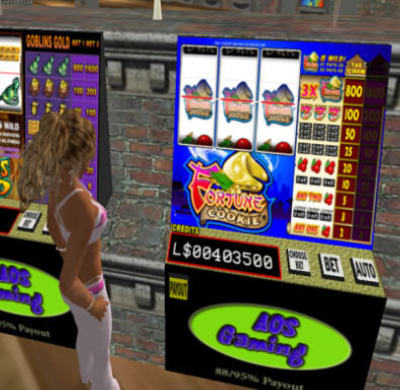 Second Life resident Rhonda Bosen is charging that a casino owned by Hunter Noland failed to pay out on her big win of over 400,000 Linden Dollars — roughly $16,000 $1600 US Dollars. Ms. Bosen has produced chat logs and screen shots in support of her claim against Mr. Noland who is associated with SL corporation Sc Design, and claims to own the following casinos.
Sc Design City Mall & Poker & Casino
Sc Design Mall & Casino at Freihafen
The Caribbean Pearl Mall & Casino
Ocean Casino & Mall (we are informed that he is only manager of this one)
According to Ms. Bosen, Mr. Nolandhas not replied to her inquires nor to those of several witnesses to the win, and has even declined her notecard outlining the lack of payout.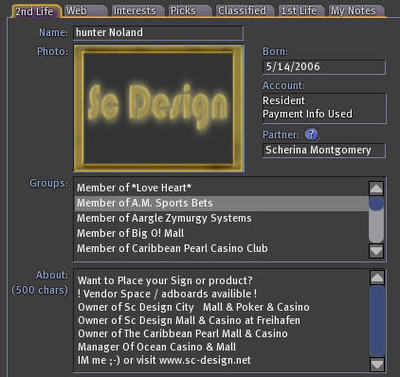 According to a notecard provided to the Herald by Ms. Bosen, she "contacted Hunter about it thinking that maybe he didnt have enough in his account when this happened and all he would do was pay the money back she spent on the machine to start with, even though there were witnesses to the win, witnesses to the shouted notification of the win and a picture taken of the win." Thus far, however he has been unresponsive. The notecard also offered the following chatlog, and Ms. Bosen claims that she has other witnesses to the event.
[22:53] Fortune Cookie 3.10: Rhonda Bosen Won 2000L$ on Fortune Cookie
[22:54] Fortune Cookie 3.10 whispers: Normal Bet
[22:55] Fortune Cookie 3.10 shouts: Rhonda Bosen Won 400000L$ on Fortune Cookie
[22:56] Fortune Cookie 3.10 whispers: Rhonda Bosen Thank you for playing Fortune Cookie.. Like to play again?
Commenting further, Mr. Bosen had this to say:

I tried to contact him by notecard because we are all busy with our businesses, but he declined the notecard, Other witnesses have even tried to contact him and get him to pay the win that obviously occured but he has still rejected it. This in my opinion is very bad business, especially from someobody that has Malls all over SL and casinos as well."
The Herald attempted to contact Mr. Noland, but so far has not heard back from him. We invite Mr. Noland to reply directly in these pages if he so chooses. In the meantime we urge all readers not to rush to judgment in this case, but in general to be wary that scams like the one alleged here are entirely possible if not likely in Second Life, and there is little recourse to victims once scammed.