by prokofy on 13/06/07 at 12:35 am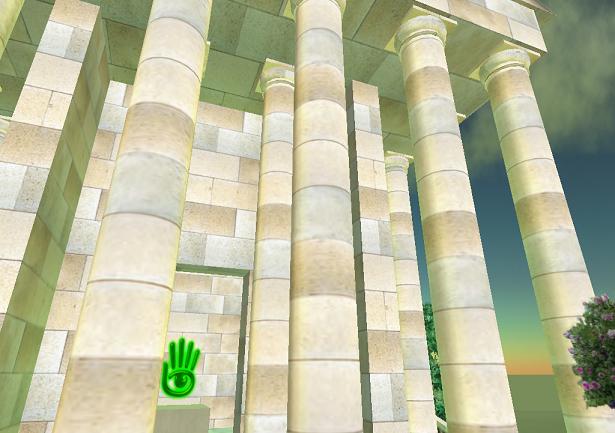 By Prokofy Neva, Kremlindenologist
Mournfully, I moped around Sutherland, steeling myself for that lonely, chilly vigil out on the Sea of Omidyar once again. Looking to the darkening synthetic skies and the overlarge angry sun, I felt my heart sink. I needed some other strategy. Uri had whispered, "Don't think they all swim with the fishies…" I wracked my brains, wondering what other Linden Places I could seek. None of them pulled up anymore on the search…but then, nothing else pulled up either. I flew around Waterhead listlessly, then headed out to Pooley. It was hard to imagine there'd be any clue buried in the brilliant white porcelain and steel men's room build…I dodged some hurtling newbs and stared at the gleaming arches of the build…the scaffolding of the Metaverse…then at the map again…
Suddenly, spying the Temple, I got an idea.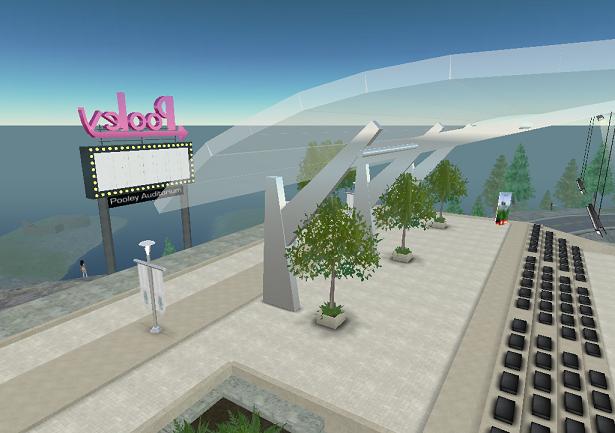 What if some of the Lindens disappeared not because they sank to the bottom of the sea, their pockets filled with rocks out of the library landscaping folder and heavy copies of the F1 Knowledge Base, but instead, had…leveled up? Gone beyond our world? What if those higher levels of Strategic SL I had only barely touched in fact contained stages that were higher than Office Lindens, but not yet Palindens?
Suddenly, my IM window was blinking. It was a man named Peter. I was about to bat him away, as I remember the last time he IM'd me he sent me a press release on a notecard but it said YOU DO NOT HAVE PERMISSIONS TO READ THIS because he couldn't figure out how to perm it up first. I braced myself for a Hypervent pre-cooked insta-article that later some lazy journo would simply drop into his news corp's web site template the next day. Sigh. "Sorry I haven't been in touch," he was saying. He sounded curiously muffled. "But there was so much going on with the transition…"
"Transition?" I echoed, peering at his profile closer. His surname was "Millionsofus". And there are millions of the minions, they have all kinds of peeps working for them. Suddenly the tumblers dropped and I ventured a query. "Have you dried out yet?!" I IM'd back. "I'm reading your piece now…it's humorous so far…," he noted. "You're not…are you…you couldn't be…Lawrence Linden???" I roared. "Yes," blinked the IM. "I'm technical director of MOU now," he explained, blandly. "Then you're…you're not drowned…you're…a Palinden!" I gasped. I'll save the rest of the story for another day. "But what have they done with Altruima?" I asked. Silence…Omerta….
Back on SC, the idiots were concocting theories that Altruima was a kind of code for "Alt R U I Am A" or "Am I U R T LA" — some other Linden's alt. Torley, they said. Hermia, I was guessing (Hermia's missing, too. Anybody?). We had heard they would start taking their own names from real life, and then we'd never find them.
Once they were no longer visible online, once they no longer had their happy, friendly, huggie-bear names, they were like names in a telephone book…you had to know they were there to look. Or like a book in the Lenin Library. You had to know to *ask* in order to *get*.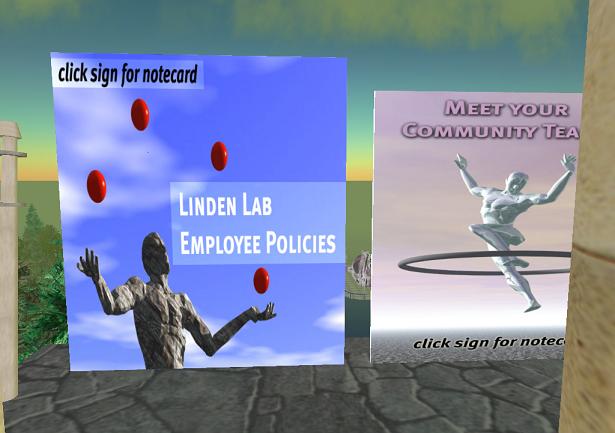 I scoured the steps of the Temple, almost as many as Chichin Itza, looking behind each pillar. Nothing. Out in back, pushed out of sight, but still technically "there" so as to check off a box somewhere, was the famous "policies" sheet that we had long ago asked for on that bright early September morning at a meeting with Philip and Robin in the job recruitment center. Within some 60 days, finally they came up with an answer to our question about whether they had any ethics guidelines. The long delay suggested that they had to get busy *writing* them (or, as some suggested, carefully excising them out of the cult manual known as the Tao of Linden such as not to reveal any cult secrets). Or…I didn't want to think about what else it might mean…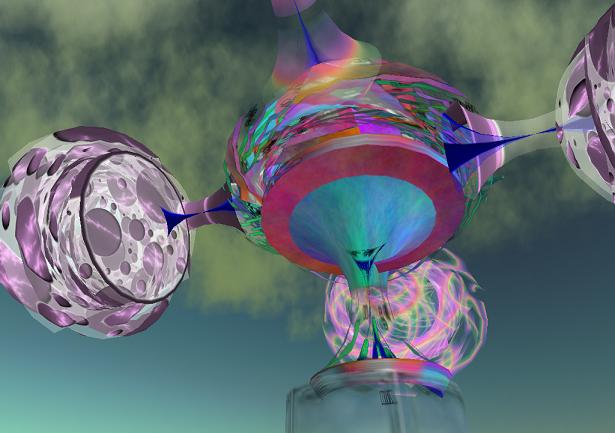 Juggling many balls…the whirling of a resident artwork caught my eye. "Power Trippy." Never fails to inspire my best thinking about how the Lab and its Experiments work…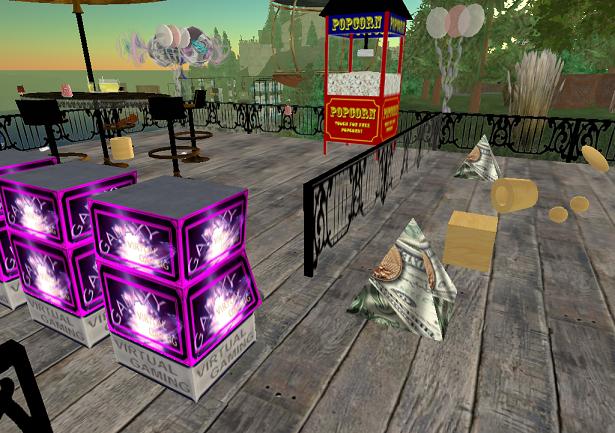 Pathfinder's office in Ambleside was deserted. The balloon ride area nearby had somehow filled up with casinos, plywood, and money-pay scams. I IM'd a Linden who batted away my landmark to the problem Linden site with junk on it, with a DECLINED YOUR INVENTORY, but then I watched, mysteriously, as the content on the non-autoreturn land began to melt away. Where was Pathfinder? Perhaps he had already left for the League of Worlds summit — a non-descript but highly powerful conclave of game gods secretly putting into place a world cabal of virtual reality makers.
PF used to actually sit in the world — that's a luxury he can't afford anymore, as he is swept away to the edu sims, then RL edu conferences…then on to rule the world. With a new satellite office, Pathfinder is only a few levels shy of Palinden; a few more grinds, a few more job fairs leaving crass wannabees with their icecubes melting in their drinks and whisking away the FICerati potentials up to the VIP room to seize their minds — and walla, he will be at the coveted master level of Palinden, having spent more time questing and grinding than, say, Reuben or Ben or Hamlet, but then, what doesn't kill us makes us stronger, and Pathfinder could probably beat them up, easy, if they had to decide which Linden got to keep their own island/company with the coveted licensed copy of SL all contained in a little gigabyte lanyard thingie around their necks with the eye-hand logo gleaming….A copy…a copyright…
I fell to thinking about Ginsu Linden. All this legal-beagle stuff — Bragg v. Linden, German Police v. pedophiles…common carriers…safe harbours…Where *was* that guy, lately? He wasn't talking. Maybe on the advice of his lawyer! I flipped through the forum, looking for Linden answers…looking…before I realize that of course they'd taken that away. Searched the blog…then recalled something out of the corner of my eye, maybe a Twitter, maybe a Jaiku…
….Ah, there it was. Virtual Goods Summit 2007, one of those $500-a-pop conference circuit jobbies (Ok, well, $395), a typical watering hole for the Metarati, thinly disguised as a "conference," and actually a sinister cartel out to fix prices on the top virtual commodities through smokey back-room deals and hushed conspiracy. Speakers List. Ginsu Linden, whose real name is Gene Yoon. I read the bio note carefully: "Gene handles a variety of business matters for Linden Lab, including international market development, corporate and business development, and external developer programs. He was also previously the company's general counsel and provided interim leadership for finance."
Previously the company's general counsel. So…it wasn't the case that he was combining two impossible jobs, and that mean somebody *else* had to be in that job, but…B'rer Rabbit, he lay low…And wouldn't you, if it was Fox News on line one calling again about the kiddie diddlers?
Maybe I could figure out who had gotten this thankless portfolio by browsing the list…but no…there were hundreds of hundreds of Lindens, working through bee all the way to Workingonit Linden — cute as a button! Too many…the forest for the trees…
I flew on. A guy at a mall was sending me a group I needed to join to place prims. All the 25 slots were used up. I went over my groups once again, stopping at the sacred group entrusted to conduct the moth rituals at the Iris Temple, the one group I had formed that a Linden had joined, and stayed in, my one little tiny piece of FIChood, the one thing that made Ingrid Ingersoll absolutely crazy, because in the Jack Linden Appreciation Society, she had to *share*…Perusing the group and remembering the storming of the temple with a hundred whirring wings, I was suddenly startled to see the Linden name, that had hung there for *years* was now missing from my group. Feeling a pang in my heart I looked in the People List. Gone…Xenon Linden, one of the chief content makers of the world, who gave the world its very look and feel, with dams and roads and buildings. He had designed the Moth Temple in Iris based on a RL temple in Bangkok; he had built the great wall across the atoll continent and other things, back when the Lindens cared enough to give us a few broad brushstrokes to stoke our imagination, and felt like beloved caretakers.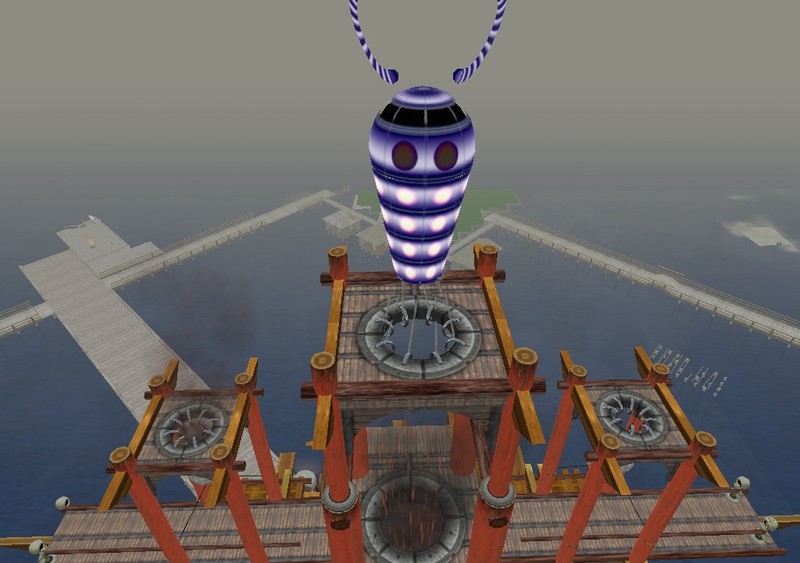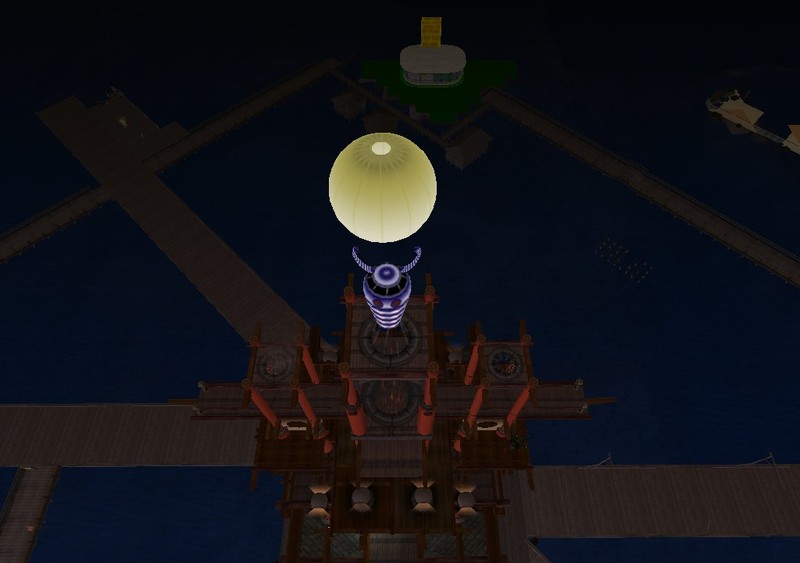 Slipped away…Xenon. Gone. Probably, like Ben, because they didn't need content production anymore, not even residents are supposed to make it, but Big Corporations. Teleporting to Iris, I sat atop a flickering lantern that attracted the moths and struggled to catch a glimpse of any clue in the particle fires billowing up to fill a giant balloon. I never knew what that balloon was for, but once I had had a completely freaky experience that couldn't possibly have happened. I right-clicked and sat on the balloon. Then I happened to teleport, while still sitting on it, to Columbia — after they finally put in p2p. *And the balloon came with me to the other sim." No, shaking my head in disbelief, not possible. Not physically possible. Except…maybe…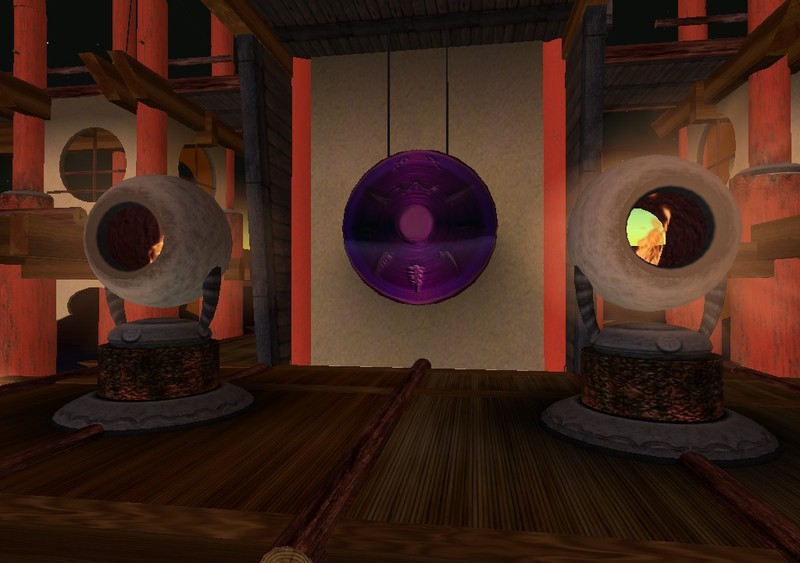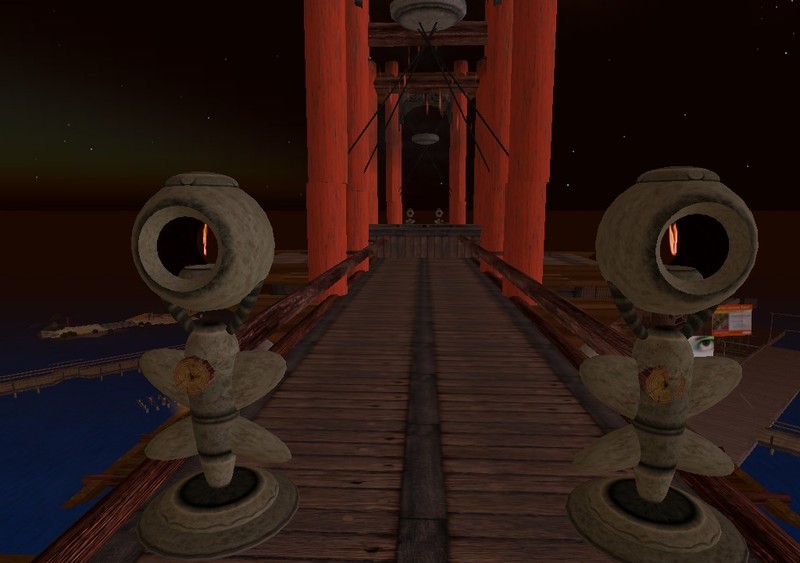 Somehow, perusing the slide-show Xenon had once put on for us out at the Iris Temple to explain the history of all the builds on the atoll continent (I must get that posted again!), I had an instinct that Xenon was safe. That he wasn't swimming with the fishes…or for that matter, with the sharks of the metaversal agencies…that he might be out there somewhere, heading up the creative department of some movie or television company or perhaps happily at work on some secret new game of some better new game god…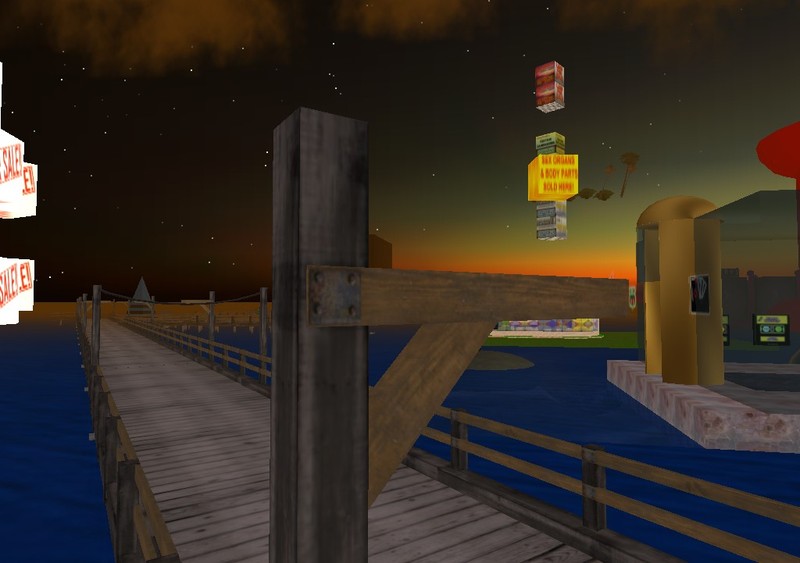 I flew further, out to the docks of Istar, on to Waved, hoping to find comfort in the light of the moth lanterns, and glancing up and finding it was only 8 pm and the slanted sky was just darkening, perhaps I'd see some of the moths Eric Linden had set loose to buzz by the lamps, attracted to the light.
Staring into the murk of ugly spinning for-sale signs and body parts and sex organs for sale, I was disturbed to see the lanterns not shining. I knew they turned off at a certain time — was it later than I imagined. I waited for the world to rez…maybe the textures aren't rezzing…waited…
All the moth lanterns were gone. Gone. Not a one left along the atoll boardwalk. Some Linden had removed them — completely. Perhaps Xenon had grabbed them before he left, hoping to light his way to a Better World…perhaps some soulless Accounting Linden, concerned about prims or script overload had decided to delete them as "excess"…their absence was a stark reminder of the old days, the days when the virtual world gods used to make little content surprises, Easter Eggs they called them, to delight us…and we were delighted.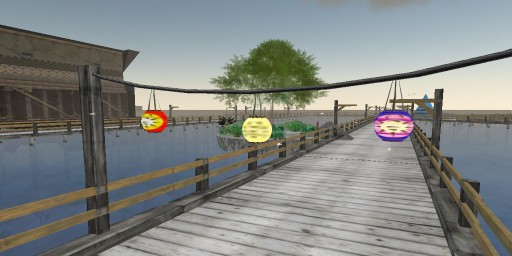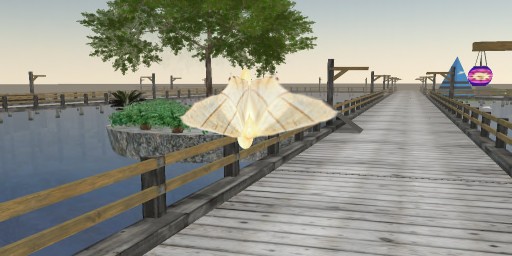 Staring at the darkened, blighted, muddy waters of Waved, I wondered if I could ever get the lanterns back. Somehow, I had to try…