by Pixeleen Mistral on 10/06/07 at 10:17 pm
Bad boyz ignore the Lindens – but stand down for Batman
by peppermint fizz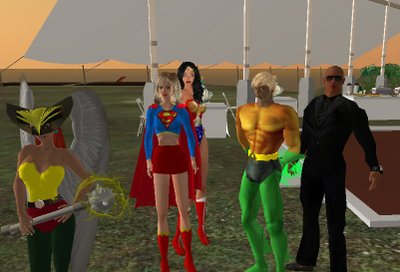 A little over a year ago, a couple of fans of superheroes started a group as a comic book interest group. In the time since, the group has developed into an actual security force in Second Life. The thing that makes them unique is that they do so wearing superhero costumes from comic books. Justice League Unlimited, (JLU), patrols public sims and responds to griefer attacks, just like good superheroes should; fighting crime and taking down griefers.
Kalel Venkman, one of the group's founders, tells it this way. "It was going to be an RP group, but after about three weeks of us walking around dressed as superheroes, people started coming up to ask asking for help with various problems – griefers in particular. So we had two choices – drop back, or step up. We stepped up.We've been a public service organization ever since. Since that time, about 14 months ago, we've grown to nearly 70 members".
Kara Timtam, another of the founders, adds 'Somehow this has mutated into a public service organization, using the "superhero" images to identify what we stand for: Truth and justice for all. That's ALL, from the newest newbies to the big sim owners'.
In fact, the group is quite busy, during the course of the interview, a member of the Green Lantern Corps, a similar comic based security group, was called away to deal with a griefing, and Timtam, dressed as Supergirl, explained that as she was answering my questions, she and another member of the group "have also been communicating with group members about a griefing in a public sandbox.
In the fourteen months since formation, the group has steadily grown not only in membership but also in reputation. "JLU has been invited to participate in SL Banlink, a conglomeration of sim owners who share information about griefers in order to keep them out," says Supergirl. "JLU has been the only non-property-owning group thusly invited".
Despite the emphasis on physical confrontation in comic books, the JLU seeks to use no force in dealing with griefers. "Oh, we have a number of techniques. But our first line of defense is diplomacy. Sometimes, the "griefing" is just a new chum who has not figured out where it is OK to shoot guns for fun and where it's not. We tell them nicely. Sometimes it's two people having fun with each other. Other times, it's devoted little sociopaths who think it's fun to ruin everyone else's fun. We have no "powers" that any other paying members of SL don't have, but we use them with care'".
Wonder Woman added that griefers often attack "for no other reason than they get their jollies from it, conveniently forgetting or ignoring the fact that there are living, breathing people behind each avatar".
One member added that the JLU is not a group that seeks to push an agenda, just help keep newbies and sim owners from having trouble at the hands of griefers, and that with the exception of public sandboxes and welcome areas, the JLU will only go patrol where it has been invited. We dont have any power to enforce a code of behaviors, we mostly stop people shooting innocents, and trying to crash sims. We would never try to enforce a code of behaviour either even if LL wants people to do that now. We only go where we're invited.
Hawkgirl added, "We are no different than anyone else-but we are committed to te rules and feel an obligation to help out. A lot of us had angels help us as new users-we believe in paying that back-or forward as the case may be. The costumes are fun, but they're just symbols-people recognize them as the good guys".
Supergirl noted here that "€œI've seen some bad boyz who were ignoring Lindens, stand down for Batman".
With the success they've experienced in fighting griefers, the group is getting a lot more invitations to come patrol private land. In fact, Kalel Venkman is one of the keynote speakers at next week'€™s Second Convention. His topic, Sim Security.
The group is selective in who it will accept for membership. People seeking to become superheroes in the SL JLU have to show that they really are interested in comic books, and also in fighting crime. We have fairly strict entry prerequisites, said Supergirl, €œincluding a minimum duration of time already in SL, and referral letters from older members.
Once in, members can select the hero they want to be. Multiple people playing the same superhero is ok with the group, but doesn't seem to be a problem as most of the really active avatars have become associated with one specific character. When asked, several members rattled off the members they could think of off the top of their head. "Batman, Aquaman, Supergirl, Wonder Woman, Powergirl, Superman, The Green Lantern, Iron Man just for starters",€ said one.
"We have a great Batman. His account got hacked but he's back and fighting crime again!" added Supergirl. "€œOddly, we're short on X-Men, since the movies are so popular. We have Phoenix and Colossus and Storm".
"And Silver Surfer, who is an amazing scripter too",€ added Wonder Woman.
"And three Spider-Men",€ added another.
The bottom line for these heroes is that they're patrolling the sims that want them in order to make the residents a little safer. Hawkgirl notes "It's our philosophy to draw fire. Better that I get orbitted, for example, than some poor soul who may not have training or experience. It sounds terribly corny, I know, but it really is beyond and bigger than us-the whole idea behind the League is public service-not bashing heads".
As the heroes flew off into the night sky to fight crime and patrol some sims, I think all of us that saw it felt a little safer.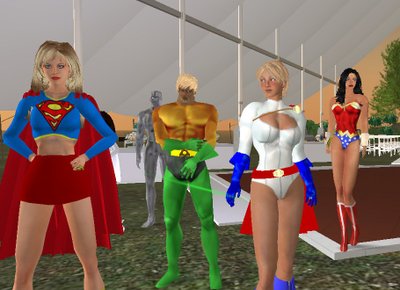 Can these superheroes keep you safe?
[Should I hire the Justice League to keep me safe at virtual BBQs? I'd hate to end up as the guest of honor in something like this, and it seems like a legitimate business expense, too - the Editrix]