by Alphaville Herald on 30/01/08 at 6:06 am
by Urizenus Sklar, National Affairs desk
Forward thinking Herald readers may have feared that Soviet Communism was decomposing somewhere in the dustbin of history. But take heart comrades! It is not dead, but advancing on new frontiers and has now claimed its metaversal bridgehead on the shores of the Jessie Simulator. In this interview, Soviet Prermier Supercool Sautereau informs us that while Soviet Communists today have not forgotten their traditional concerns of economic justice, in the metaverse they have new causes and new enemies. Today the enemies include not just fascists but griefer groups like the PN and other racist fucktards, and today their weapons include not just AK-47s, but orbits and other high tech tools favored by 21st century patriots.
Urizenus: Supercool, you are the Premier of the People's Soviet Communist Party in SL. What is that and what is its mission?
Supercool: yes, I am. our mission is the liberation of the world, and a better life for the common people.
Urizenus: That sounds ambitous.
Supercool: yes, it is, but that is the nature of Soviet communism.
Urizenus: Well, if you want to liberate the world, what are you doing in a virtual world?
Supercool: the goal is to liberate the oppressed of this world — the poor, the landless, and those who cannot fight people who are begging to grief and to shoot the new or the unarmed. We wish to create a new society free of the capitalism that has sadly followed this world from the real one.
Urizenus: ic, well lets start with protecting people from griefers. that is part of your mission?
Supercool: yes, indeed. We have a set of laws, the Soviet constitution, which we use for attempting to work as justly as possible. They regulate, among other things, our behavior towards new people not yet with the Soviet cause. In terms of our land in Jessie, we try to ask questions first and shoot later. Many new people come here, for whatever reason, and we try to teach them how to get around in Second Life. We also do our best to arm them.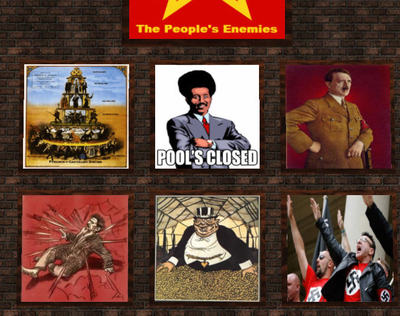 Urizenus: I notice that on your wall of enemies, in addition to Hitler and capitalist pigs you have the PN
Supercool: indeed; they are not a fixed enemy though, but their picture is a visual representation of all griefers. They are indeed a major problem. But in addition to them the common griefer, who harasses new people out of Second Life, is a big problem.
Urizenus: ic., have you had to take action against them?
Supercool: during our initial time here, they did harass Jessie. It's rough tracking them down, but when we find them in Jessie, or in the sandboxes we sometimes patrol, we do our best to get them beaten. Or at least to get innocents out of there.
Urizenus: what do you do to them?
Supercool: those mutating devices, that deform avatars, we dont use them
but we give undeformers to victims. As for what we do to griefers, we try to stick to conventional guns when we are in Jessie, but in places where they are not workable, like sandboxes or something, we try to stick with tools of least disruption. If someone attacks us, or our new friends we meet, we try to stick with orbits.
Urizenus: ah yes, the old standby. So you are happy to orbit Pns?
Supercool: or any other enemies of the people. We use orbits, so as not to disrupt the whole sim, but it's far more satisfying to use the people's rifles.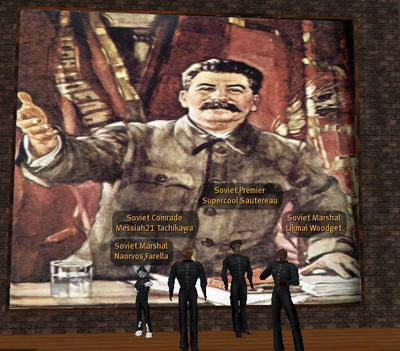 Urizenus: Well let me get to the issue of economics. It seems that all of SL is just a hyper capitalist wet dream. Do you really think you can change that? and if you did change it what would the new SL look like?
Supercool: change the whole way the platform works? no.But we can, as individuals striving towards a new collective, work to build our own new society, one that we would run as we run this area here in Jessie. We do not sell anything, and try not to buy anything either. Land is of course a necessary evil but we work to share anything we have with one another.
Urizenus: So this is a gift economy?
Supercool: if you call "from each according to his abilities, to each according to his needs" to be a gift economy, yes. We all do our best to work for the cause and to create devices and tools to further our goals, and to better our Second Life experience.
Urizenus: Well is the plan to turn all of SL into a gift economy?
Supercool: ideally, communism would be the prevailing system, but realistically we want to create a smaller part of it that functions as its own system so far as possible.The platform has limits, but collective ownership and production is our goal — a democratic, communist society. Some might believe this is a contradiction, but it is not at all.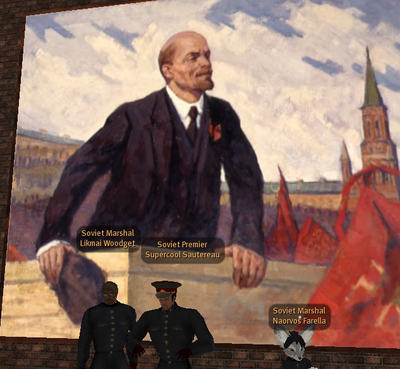 Urizenus: Were you elected premier?
Supercool:In the initial stages, no. I did have to start the group, but we have a democratic process for approving laws and we do have processes in writing for deposing the Premier, should anyone wish to.
Urizenus: Assassination? ice pick?
Supercool: hahaha no, the committee of the Soviet Marshals, who act as another ruling group, can simply elect to boot me.
Urizenus: ic. How are the soviet marshals chosen?
Supercool: through consensus notices. It's hard to ensure that everyone votes, but we sent out notices asking for advice and recommendations.
Urizenus: How many members are in your group now?
Supercool: we have a few separate groups and have even begun helping others form charter organizations but in total, probably 100 members or so.
Urizenus: how many members do you hope you will have at this time next year?
Supercool: next year? well we hit the 100 mark a few weeks back, and have focused on research, reorganization and construction since then. But if we were aiming for membership surely dozens more, if not hundreds. We hold rallies in cities across Second Life, Grignamo as an example.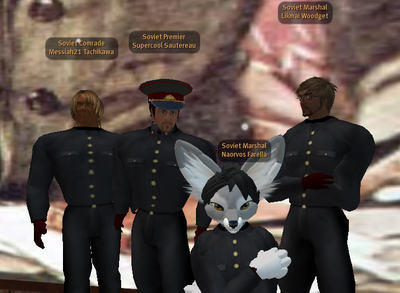 Urizenus: Do you have an education and outreach program?
Supercool: yes, of sorts. We call it the Political Brigades — communists whose goal is to spread the word of the message. I myself enjoy teaching new members personally of course, as do other longtime comrades.
Urizenus: Some people would argue that the Soviet union is a good proof of the failure of communism. How do you respond to that?
Supercool: this is not the Soviet Union.
Urizenus: you call yourself the Soviet Premier
Supercool: yes, but Soviet is a word in and of itself. A "soviet" is a worker's council — a democratic caucus, of sorts. We do support much of the Soviet legacy though; the Soviet Union was the first engine of global communism, and the nation that most helped in destroying Fascism in World War II. But to call us Russian, or Soviet, is misinformed; our members hail from around the world.
Urizenus: And it also imprisoned and killed tens of millions of inocent people and turned the lives of its citizens into a dungeon.
Supercool: turned the lives of its citizens into a dungeon?
Urizenus: yes
Supercool: let me tell you about Western views of the Soviet Union. I do not defend it to the death, but the West has viewed it in the past as, in much the 1930s, a "beacon of progress" for the whole world to follow. Clearly true in some ways but not in all. Today the opposite is popular as a view of the Soviet Union. But the Soviet Union has done far more good than bad, and the Soviet people are owed by the history of the world a great debt for their wartime sacrifices.
Urizenus: Did you ever visit the soviet union or one of its satelite states in the day?
Supercool: those days were long ago, but no.
Urizenus: Dude, life in the soviet block sucked shit.
Supercool: in some ways perhaps, though that is a blunt view.
Urizenus: Ask anyone who lived there.
Supercool: a secure state and a progressive, brighter future was the Soviet Union's future in the 1980s and you make a strong point but communism is by no means reviled there.The communist party, for example, is the second strongest party in today's Russia.
Urizenus: Maybe you would be better off rejecting the soviet union and observing that it was not a true socialist state but rather an aristocracy of sorts.
Supercool: perhaps, but this is not our policy for two reasons.Firstly, it is wrong to discredit all of the Soviet Union's policies. For example they did provide a strong social safety net, and were very advanced in t we are not all about the Soviet Union's history. It is a part of communism; unlike the weak, decadent communists of today, we do not apologize for man's first attempts at communist utopia. Todays communists often times are nothing more than leftists who enjoy the logos and terminology.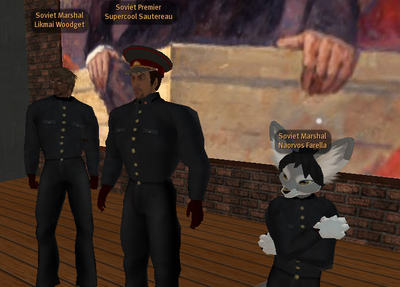 Urizenus: Are you familiar with other attempts to create socialist societies in SL — Neualtenberg for example?
Supercool: yes, indeed. They are very interesting. I am not too well versed in their socialism, but after visiting their lands they were well-built at the very least, and looked functional.
Urizenus: Will you reach out to such groups? — form strategic alliances with other leftist groups
Supercool: oh, of course, but many of them are disappointing. Leftists are too often just "caring" people who do not have the conviction to see things through to their end.
Urizenus: you consider them weak?
Supercool: not at all, but many of them are simply more interested in talking than in doing.
Urizenus: Do you think some day it will be possible for the people to seize control of SL from Linden Lab?
Supercool: haha, no, and this is not particularly desirable, unless the new party were interested in lowering land tier fees, which are outrageous, and lend themselves to land barons choking off creativity in the world and creating a boring, suburban world online. But I digress;
we only wish to create a new society, and to expand it so far as possible. One where rule of just and democratic law, written enforced by the will of the people, ensures fairness for all and where profit is not the end-all, be-all of life.