by Alphaville Herald on 04/02/08 at 11:20 pm
Official event may be difficult to schedule
by Pixeleen Mistral, National Affairs desk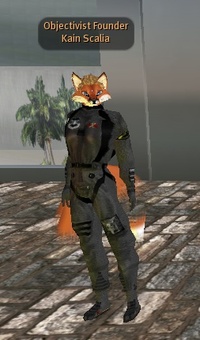 ---
"We do not wish to grant the communist party any moral sanction for their views, and thus find no reason to debate with members of the People's Soviet Communist Party in Second Life, specially when it comes to discussing a dead issue." – Kain Scalia, founder Objectivist Institute in Second Life
---
When a press release for the Objectivist Institute in Second Life arrived in the newsroom last week, the Herald editorial staff felt slightly giddy. Could SL finally be living up to its real potential – a world where humans and furries engage in tightly reasoned philosophical debates?
Unfortunately, our hopes were dashed when we learned that the Objectivist disciples of Ayn Rand had grave concerns about debating on the SL Communists land in the damage-enabled combat sim Jessie — threatening a Herald-sponsored debate between the Objectivists and Communists despite early positive signs.
Things started well enough. Sunday, I contacted the Premier of People's Soviet Communist Party in Second Life – Supercool Sautereau – to suggest the debate. Comrade Sautereau readily agreed, and volunteered the Hall of the People's Justice in Jessie sim as a potential venue. There were no Objectivists online at the time, but comrade Sautereau and some of his men accompanied me to the Objectivist base in Fleets Cove Beach sim.
After a few minutes of exploring the Objectivist Institute of Second Life and admiring the architecture, we were joined by a rank-and-file Objectivist – Galt Aeon – and an informal debate started shaping up: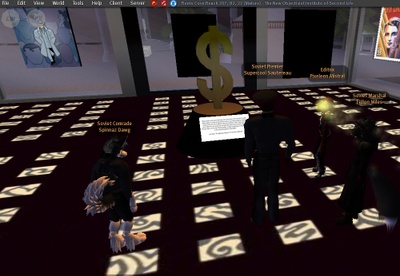 SL Communists inspect Objectivist shrine to the dollar
Pixeleen Mistral: these guys are some communists from Jessie sim and I was hoping to have a philosophical debate about Communism vs. Objectivism
Galt Aeon: ok
Pixeleen Mistral: can you tell the rest of the Objectivists about this? I think it could be really cool
Galt Aeon: it could be
Pixeleen Mistral: Supercool has a great hall for that sort of thing
Supercool Sautereau: indeed, the hall of the people's justice would be a nice venue.
Spinnaz Dawg: Your group has quite a few members.
Pixeleen Mistral: its right next to the SL Herald's offices in Jessie
Spinnaz Dawg: It should turn it to be a nice debate. I hope so anyway.
Supercool Sautereau: yes. we will need to employ some comrades for security.
Spinnaz Dawg: If I'm on, I'll be willing to do that.
Supercool Sautereau: very good.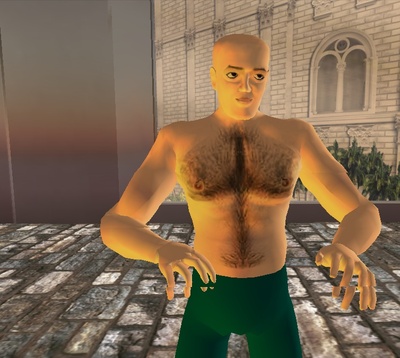 Galt Aeon declined offers of free communist t-shirts
Galt Aeon: so lets see how you guys justify taking away people property and such for the "good" of the "other" people.
Supercool Sautereau: property is theft. the earth is to be shared by all people equally.
Pixeleen Mistral: this is perfect – this is EXACTLY the sort of thing that SL needs more of – a debate about philosophical principles
Spinnaz Dawg: I personally wish that all country boundaries should be eradicated and we can all just live together.
Supercool Sautereau: I agree to a degree comrade dawg. Globalization is making the world a borderless capitalist society that, left unchecked, will oppress us all.
Galt Aeon: property doa farm is not a natural resource. objects you own do not just come out of the ground
Supercool Sautereau: I don't get what you're saying comrade aeon.
Galt Aeon: everything we have that is good is produced by men and they should have ownership of the means of production. not a state.
Supercool Sautereau: you're right comrade aeon!
Supercool Sautereau: all people should own the means of production.
Supercool Sautereau: then we can all be free of the capitalist yoke.
Supercool Sautereau: the means of production should be collectively owned by all men and women.
Pixeleen Mistral: should furries also own the means of production?
Galt Aeon: i think those that created such things should own their creation
Supercool Sautereau: I'm glad we agree on this point.
Galt Aeon: not a monster called the people.
Supercool Sautereau: a monster? have you no faith in your fellow man?
Galt Aeon: yes the collective monster
Supercool Sautereau: it must be a wonderful life to live thinking of the people of the world as a monster to be shunned. rather than a group to be embraced and uplifted through organized advancement and collective society.
Spinnaz Dawg: Do you find yourself to be part of this "monster," Galt?
Galt Aeon: why should i not profit from my creations or inventions?
Supercool Sautereau: all people should profit from all creations. we believe this, anyway.
Pixeleen Mistral: like open source software?
Supercool Sautereau: not a bad comparison.
Supercool Sautereau: to be modified by all
Supercool Sautereau: to be shared by all
Supercool Sautereau: to be enjoyed by all
Supercool Sautereau: equally.
…and so on. Unfortunately, once the Objectivist leadership arrived in the person of Kain Scalia, the possibility of an official debate was diminished – Mr. Scalia has some concerns about getting enough press exposure and wanted assurances that multiple media outlets would cover any Objectivist/Communist events.
So the official event will have to wait for another day – hopefully we can get Adam Retuers to join us in Jessie for a real SL-style debate and settle once and for all who should own the tools of production in the virtual world.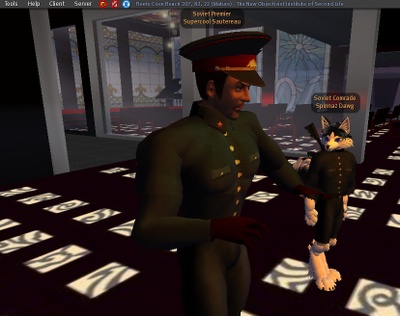 the Soviet debating team is ready – and has push guns if things turn ugly