by Alphaville Herald on 26/04/08 at 7:56 am
Exhausted emperor favors the simple look
by Pixeleen Mistral, National Affairs desk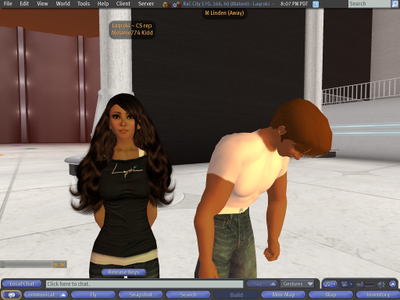 ex-digital marketing agency CEO shows the metaverse how it is done – afk in t-shirt and jeans
Melanie Kidd took what is likely to be the paparazzi photo of the year – a candid shot of the new emperor/CEO of Linden Lab demonstrating his nearly total mastery of e-marketing with the new media.
While a few readers may mistake emperor M as a potential griefer given his understated appearance, most agree Linden Lab's new CEO is actually taking the "opportunity to connect with customers in new and meaningful ways" – an area of expertise claimed by his former e-advertizing agency's web site Organic.com. Going AFK in a noobie outfit is generally seen as a fast way to get a certain form of in-world street cred.
Clearly, the new emperor has a deep and nuanced understanding of Second Life, and the potential to "create digital experiences that bring consumers closer to brands, generate sales, and increase profitability". Even better, M Linden's bio at Organic.com tells us that he is a "frequent industry spokesman on trends in digital marketing, customer relationship management, social networking, and consumer empathy".
After the emperor has spent a bit more time in Second Life, perhaps he will enhance his image by securing a sequined codpiece than will put even Philip Linden to shame – what better way could there be to make the leadership hierarchy in the advertisland empire clear? But for now, the Herald suggests landowners take a go-slow approach in banning avatars in noobie clothes — you wouldn't want to eject the emperor by mistake.