by Alphaville Herald on 20/08/08 at 7:52 am
The killings will continue until until morale improves
by Pixeleen Mistral, National Affairs desk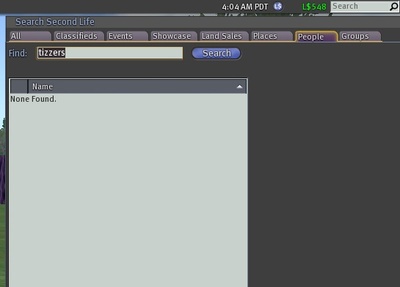 death squads "disappear" more Tizzers accounts
Over the last 24 hours, at least three more avatars with the first name "Tizzers" have disappeared from the search people list – apparently terminated by secretive Linden Lab avatar death squads. This comes in the wake of a bloody monday evening in which at least 6 Tizzers alt accounts were murdered – including my own alt, Tizzers Aristocrat.
By tuesday morning, two new accounts – Tizzers Constantine and Tizzers Teardrop – had appeared in the people list, joined yesterday evening by Tizzers Waffle. But as we go to press this morning, these accounts are gone and the Tizzers body count continues to rise.
The pattern that emerges is one of evening/early morning avatar killing sprees, suggesting that Lab governance team members working the second or third shift are responsible.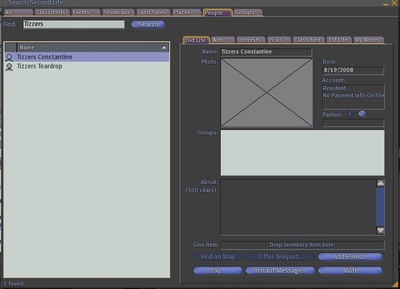 two Tizzers on tuesday morning – now missing and presumed dead
Sources speculate that vigilante "anti-griefer" groups may play a role in the killings by targeting anyone named Tizzers for mass abuse reports. If the abuse reports are worded to suggest the target is underage, Lab staff could claim they "were just following orders" to protect the grid. It is also possible that there is a secret list of banned names, and it is the responsibility of the third shift to cleanse the grid of avatars with forbidden names.
In the wake of bad publicity for pedo-play in the mainstream media, Linden Lab has become extremely sensitive to reports of underage avatars, and appears to have adopted a shoot first, ask questions later policy. This policy combined with resident groups eager to enlist LL staff as their hammer might not lead to a techno-utopia, but does provide hours of entertainment for any group with a light regard for the truth and a score to settle with other residents.
Certainly a governance system that relies heavily on resident abuse reports, combined with a staff of game gods unaccountable to the residents creates a situation ripe for mob violence – and the continued Tizzers killings may be a symptom of this problem.
Perhaps this dystopian governance model explains the falling number of premium land-owning accounts – is this the sort of world anyone would want to invest in?