by Alphaville Herald on 19/08/08 at 9:18 am
Tizzers Aristocrat account gone before morning
by Pixeleen Mistral, National Affairs desk


Tizzers Aristocrat: your account has been activated – we will be deactivating it shortly
To kick off "National Register a Tizzers Alt Account Month", I created an alt account named Tizzers Aristocrat to check Intlibber Brautigan's claims that Linden Lab is banning all accounts named Tizzers. In under 12 hours my new alt account was gone – apparently due to a secret Linden firstname ban policy targeting any account named Tizzers, without regard to who created the account or what the account has done. In her short life, Tizzers Aristocrat barely made it through the orientation area and onto the mainland.
So despite the cheery e-mail the Lab sent last night with its promises of giddy times while pretending to snowboard, fly, surf, and pilot jet fighters in the metaverse, my TIzzers Aristocrat alt account now is gone from the search people list, and unable to log in. TIzzers Aristocrat has apparently been disappeared by the Linden secret police — without cause or explanation.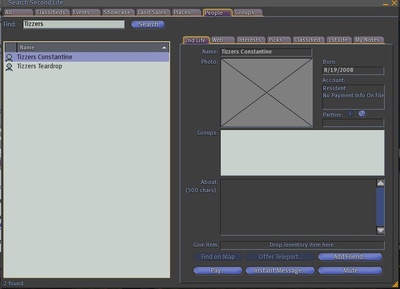 Previous day's Tizzers have been disappeared – as more are created in protest
Meanwhile, Pixeleen Mistral lives on. This suggest that making Tizzers alt accounts is a mostly harmless amusement that helps provide full employment for under-worked Linden watchdogs who scour the people list looking for signs of resistance to their iron fisted rule. Unfortunately these sorts of bans without cause do not help with the dismal player retention statistics that plague Second Life – but perhaps Zorkmid gambling will address that issue.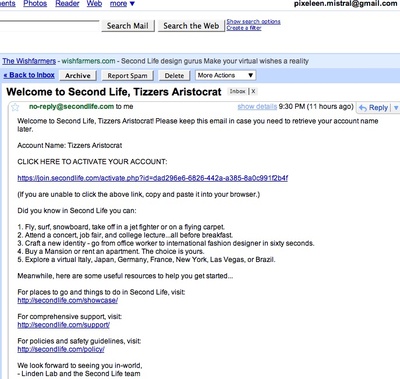 Lab congratulates Pixeleen Mistral on creating Tizzers Aristocrat – shortly before Tizzers' murder
Advocates of avatar firstname freedom continue to hope that M Linden, Robin Linden or one of the other adults at the Lab will look into their staff's behavior. If that is too much to hope for, maybe it would be best to publish the list of banned firstnames and save everyone a lot of trouble?
Who else besides Tizzers must die?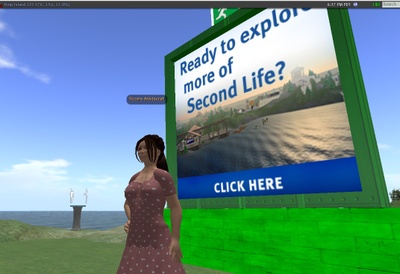 Tizzers Artistocrat – cut down in the prime of life by Linden secret police!