by Alphaville Herald on 27/09/08 at 6:46 pm
by Idoru Wellman, Inter-world Royal Cultural Affairs desk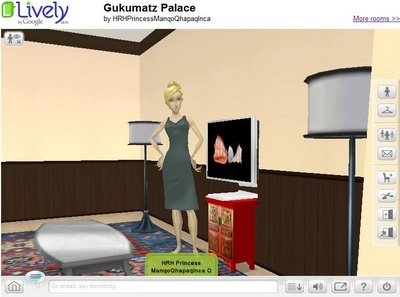 Reading between the lines of the latest press release from The Royal Press Office at Gukumatz Palace, Her Royal Highness The Princess of Yaximixche may still be suffering from hardware issues that prevent her from visiting her loyal subjects in SL.
However, all is not lost, as we learn that after a recent visit to the new Virtual World of Lively, Her Royal Highness asked to her Private Secretary the creation of a new royal residence. Builders immediately started with the design of Gukumatz Palace following the requirements of HRH Princess Manqo.
While the Princess may not always be present in Gukumatz palace, visitors can admire the lavish chinese and brown drawings room decorated with local plants and ornaments – decorations the Royal Press Office tells us where chosen in order to maintain a low ecological footprint in this building. Gukumatz Palace also has a new art gallery with a multimedia display about the Amazon Rainforest deforestation and its effects on climate change.
The Lively population seems to have been charmed by the Princess – the press office tell us the "Five Trees" plaiting in the palace is a fabulous artwork kindly donated by local residents and it is center piece to one of the rooms.
The Princess was deeply touched by the warm welcome of Lively citizens who were also concerned about climate change. HRH Princess Manqo discussed with some visitors to Gukumatz Palace about the recent nature disasters in different points of our planet. The Princess of Yaximixche was also greatly surprised that many of the Lively citizens are Second Live citizens.
Gukumatz Palace is open 24×7 here