by Alphaville Herald on 03/11/08 at 7:59 am
Rising cost of Linden Governance Team to blame for OpenSpace price hikes?
by Pixeleen Mistral, National Affairs desk
In the week since Jack Linden's announcement of a 66% virtual land price increase, the grid has seen nearly continuous protests and discussion of what prompted the price gouging. To better understand Linden Lab's cost structure and vision of the common good, Sunday night I visited the Something Awful goons in the "What" sim, and learned that involuntary avatar name changes are an important new service provided by the Lab — even for residents with names that were acceptable for the last 22 months.
Could this attention to detail be driving the Lab's desire for more land income?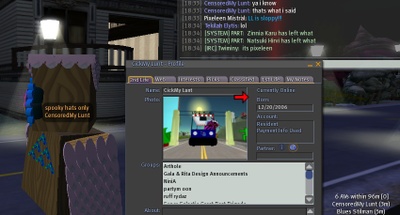 CensoredMy Lunt's nametag says one thing – profile says another [click for large image]
Consider the case of an avatar now known as CensoredMy Lunt. Mr. Lunt was born into our virtual world in December of 2006, and was known as ClickMy Lunt until about a month ago. Mr. Lunt's avatar currently appears to be a sort of wooden owl, and he told me his story:
CensoredMy Lunt: hey pixleen are you gonna write about how i was banned but now im not and how the lindens changed my name but they did such a shitty job that all shit is fucked up
Pixeleen Mistral: I'm just taking a break from OpenSpace sim drama
Pixeleen Mistral: they changed your name?
CensoredMy Lunt: yes
Pixeleen Mistral: but you had that name for years
CensoredMy Lunt: but it still comes up on my profile and my objects and my buddies
Pixeleen Mistral: LOL! your profile DOES still have the old name!
CensoredMy Lunt: ya i know. thats what i said
Pixeleen Mistral: LL is sloppy!!!
CensoredMy Lunt: so some soccer mom must have been offended
CensoredMy Lunt: they sent me an email sayin i was suspended for VULGAR NAME
CensoredMy Lunt: and told me to make a ticket so i did and it said
CensoredMy Lunt: YOU HAVE TO CHANGE YOUR NAME GIVE US A LIST OF SUGGESTIONS
CensoredMy Lunt: so i did
CensoredMy Lunt: then like a week later they got around to changing it
Pixeleen Mistral: the GTeam must not have enough to do
After my visit to "What" sim, I pondered the Lab's priorities. While some are concerned about the fate of the in-world economy, particularly the virtual land business, and pointed questions are asked about cack-handed Jack Linden's attempt to break a deflationary death spiral in mainland prices by causing a deflationary death spiral in OpenSpace sim land prices, it is comforting to know that the Lab has plenty of time to assist residents' in their choice of names.
Has "ClickMy" joined "Tizzers" as a forbidden first name good for an insta-ban? Perhaps the Lab could publish a list fo prohibited names in the interest of greater efficiency? As the in-world economy crashes, there is bound to be belt-tightening all around.