by Alphaville Herald on 14/01/09 at 7:59 am
IntLibber Brautigan's frozen accounts can't sell L$ to pay bills
by Pixeleen Mistral, National Affairs desk

A surprising note appeared on the Ancapistan Capital Exchange website tuesday evening – accord to the press release, IntLibber Brautigan's virtual land business is having some difficulty covering land tier payments to Linden Lab due to the Lab's L$ spacebux currency conversion limits.
Linden Lab has an officially sanctioned real money exchange – the Lindex – which players use to both purchase game currency and sell L$ for hard currency. While Linden Lab's primary business is renting virtual land, a number of entrepreneurs act as middlemen between the Lab and ordinary game players, and accept payment for land rental fees (land tier) in L$. Although the Lab has promoted the in-world economy as a way to make real world money, it only accepts hard currency for land tier payments – and controls the amount of virtual currency that an individual can sell for hard currency.
Apparently, this has left IntLibber Brautigan in a bind, as he claims to have $8000 USD worth of virtual money trapped in accounts that are locked due to delinquent land tier payments.
Although it would be possible to use third party currency exchanges to convert the L$, the rates can be less attractive than the Lindex, and this would require access to Mr. Brautigan's locked accounts – potentially creating a situation where Linden Lab limits access to assets required to pay the Lab's tier fees. In the real world, this sort of situation might easily end up in court – could something similar happen with virtual assets?
According to the announcement, negotiations are underway between Mr. Brautigan and Woodbury University for an advance payment of six months worth of land tier in USD which would apparently resolve the problem – at least for now.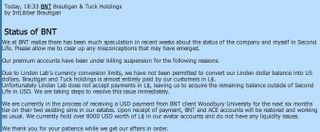 Meanwhile, on the ACE-exchange forums there was some skepticism voiced about the likelihood of a Lindex trading limit being the cause of the virtual business's cash flow problems, with one critic pointing out that very high trading limits are possible. There is some uncertainty around exactly what Mr. Brautigan's trading limits are at present, and due to his in-world ban, the Herald was unable to contact IntLibber directly for clarification at press time.
One might hope that the Lab finds a way to handle the situation gracefully, as the failure of a large in-world land business could have a negative impact on the residents who's virtual homes would be destroyed in the event of removal of Mr. Brautigan 's estate. The loss in confidence in the virtual economy could be a concern as well, as eerie parallels to real world business bailouts loom. If the current negotiations fail, will Linden Lab nationalize the BnT estate?