by Alphaville Herald on 01/01/09 at 5:02 pm
Justice Hall set afire, defaced — 9 JLU superheros defeated by 3 PN griefers
by Pixeleen Mistral, National Affairs desk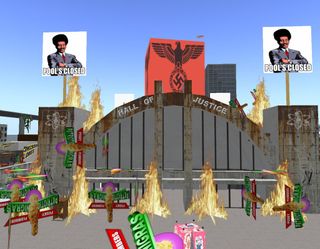 In the wee hours of New Years Day 2009, the Justice League Unlimited's base was overrun by 3 members of the PN griefers, who defeated 9 JLU members to take control of the Hall of Justice on Justice Island sim for several hours, setting fire to buildings and defacing the JLU's stronghold.
The news of the shocking default for the JLU anti-griefer vigilante group on their home sim at the hands of the notorious PN came to the Herald by way of filmmaker TheGreatGigantor – a known sympathizer – who said " 3 lone PN members stone walled the justice league sim for nearly 5 hours and fought off the justice league members for 3 hours with only happy cat machine guns – we beat them down like dogs".
Despite the obvious bias in Mr. Gigantor's account, it is clear based on the pictures provided that somehow JLU's locked-down sim defenses were thwarted. The question is how.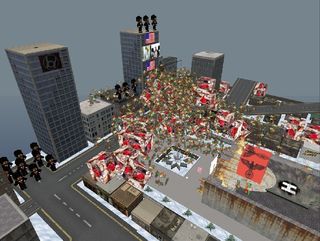 During the attack ccording to TheGreatGigantor, "Chiengmon Chieng of the Board of directors for Chairman Cheng used his magical Nigra powers to hax the land for the Nigras use".
This suggests either some sort of hacked SL client – or possibly one of the oldest tricks in the metaverse – group infiltration followed by humiliation. Could it be that disaffected members of the JLU turned against the group's leadership? There have been persistent rumors of dissatisfaction with Kalel Venkman's rule – could some departing JLU members opened the door for the PN trouble makers?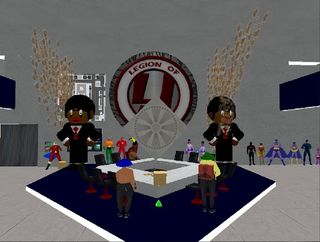 TheGreatGigantor's account continues, "Chiengmon Chieng, Chairman Cheng, and FagLantern Core of the Patriotic Nigras felt the Justice League have been left alone for far to long. Thus they waged an epic Battle between 3 brave Nigras and 9 Justice League SUPAR Haros… It was a hard fought battle (Considering JLU couldnt harm the nigras at all). Happy Cat was fired and many JLU fell dead to the ground"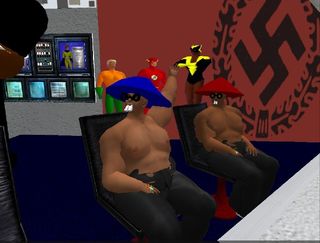 Unfortunately for the JLU, they face an asymmetric threat from the PN – an amorphous group with no permanent base using throw away suicidal avatars who think nothing of a permaban. This attack is likely to raise the level of PN – JLU violence. As the metaverse looks with hope toward a new year, concerned residents can only hope the fighting can be contained on Justice Island, before it spills over into peace-loving residential region.