by Alphaville Herald on 13/02/09 at 8:22 am
Rezzable slashme <3 prim – prim feels violated
by Pixeleen Mistral, National Affairs desk
My iMojo 3G phone delivered an odd bit of email this morning -  a survey from metaverse development company Rezzable focused on online sales of real life t-shirts – a vital fashion accessory for basement-dwellers virtual world residents worldwide.
Strictly speaking, this was not exactly spam – Rezzable and I had some sort of virtual relationship in the distant past, and the mail was careful to point this out. Still, the faint whiff of a certain canned meat product actually piqued my interest. I clicked through the survey and was quickly directed to a page where -  surprise – Rezzable is selling real life t-shirts.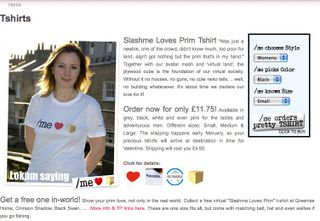 Does this mean that the micro-payment economy of Second Life is not keeping up with the macro-payment tier tithes to the game gods?
While Rezzable's Greenies sim is an enjoyable diversion from the serious business of the Second Life, questions about the long term funding of the venture have lingered.  Some fanboys have even suggested in-world clothing sales as a viable business model. Either that suggestion was garbled by the time it reached Rezzable, or someone did the math.
So the real business model for the virtual realm is now clear – clothing sales. This is not such a bad approach. It is widely believed that some classic bands kept themselves afloat with real-life merchandise sales – the Ramones come to mind – and rares in the t-shirt realm fetch surprising fees at Christies.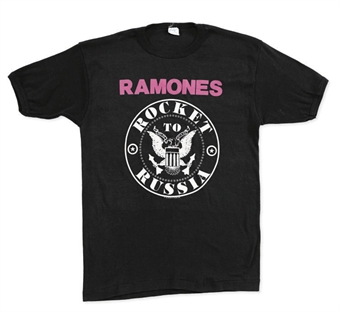 Will t-shirt sex and violence save Second Life?
Rezzable is promising an alternative to  the slash me tee – a forthcoming shirt will illustrate SL's core values with a classic SL tableau — a noob and an escort considering the merits of the pink and blue sex balls. I understand where Rezzable is going with their new clothing line, but do these sorts of fashion statements fit in with the Lab's new immersive business meeting marketing message?