by Alphaville Herald on 30/07/09 at 8:09 am
Zaius says no to demands for damaged egg refunds

by Hayseed Econobot, Agricultural Affairs desk
Sion Zaius has admitting that a botched update intended to remove lag-tastic versions of sion Chicken eggs actually deleted any eggs placed in the " proteggtors"- including the newest non-laggy chicken eggs. The unintentional egg breakage shocked a struggling chicken farming community, already reeling from  poisoned chicken feed attacks and chicken killer shooting sprees.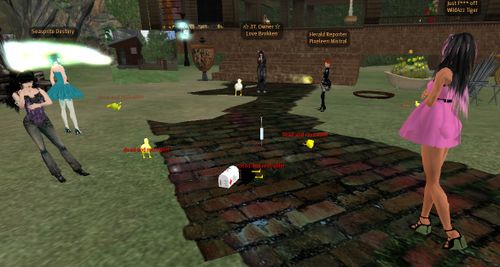 the aftermath of a chicken killer shooting spree
It appears that the proteggtors were poorly tested before they were released Sunday, as the farmers themselves discovered the problem rather than Sion Labs. While Mr. Zaius has promised to fix the broken proteggors, his refusal to offer compensation for the damage his faulty product caused is deeply troubling.
Given the prices of his chicken feed, why can't Mr. Zaius do something more for the farmers?
[text of Sion Labs' announcement after the jump]
Dear Chicken Community,
On Sunday Sion Labs released updated proteggtors that were designed to delete non-lagless chicken eggs. This action was taken due to the number of complaints received by Linden Lab regarding the performance issues that the non-lagless chickens were causing on sims, so it was felt that for the health of the chicken community, that no new non-lagless version chickens were produced.
However, there was a bug in the code that accidently deleted any egg, inlcuding eggs from already lagless chickens. The message given was that the chickens were non-updated, which was errorious.
Once this bug was discovered by the community, we released updated proteggtors that would no longer delete legitimate lagless eggs.
We are very sorry for the confusion and loss by the community over this. We cannot recompense any perceived losses over the market value of eggs lost as these prices are not under the control of Sion Labs. However, anyone that purchased proteggtors during the time the bad ones were sold, we can replace with fixed proteggors.
We apologize for the lack of response over this issue. It has taken us a while to understand what has happened.
Sion Zaius, Sion Labs