by Alphaville Herald on 16/07/09 at 7:50 am
by Chatterbox Telltale, society reporter
The first ever Post 6 Model reunion party was a smashing success – this reporter was star-struck after joining Alphaville Herald readers watching wave after wave of stunning Post 6 Models and a veritable who's who of SLebrity scene stream through the doors of the Starlight Ballroom at Montego Beach.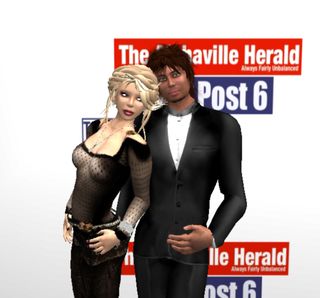 Marilyn Murphy poses with Timothy Morpork
"I think it was a great time," said party host and organizer Timothy Morpork. "I really enjoyed it- mostly because it seemed that everyone had a good time, and also because I got to meet so many great people. I mean anytime you throw a party and get a few SL residents from as far back as 2003, I think it's a hit. We will definitely do this again in a couple of weeks."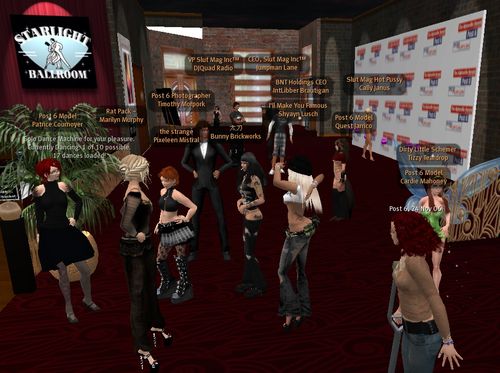 a crowd forms in the entryway – Bunny Brickworks compares notes with Timothy Morprok as Marilyn Murphy looks on

GoSpeed Racer spins tunes and the dance floor begins to fill – squatter Moo Money surveys the scene from the steps

The stars came out for this event – among the many notable personalities spotted by this reporter include Post 6 Models Patrice Cournoyer, Toxic Menges, Zonra Darkmatter,  Quest Jarrico, Snooker Whiteberry, Lorelei Singh, Senban Babii, Shyayn Lusch, Cardie Mahoney, Penance Sautereau, Cicatrice Oh, Takuya Kawashima, Jenna Papp, Uma Troell, Clover Vella, and Shelby Ziskey.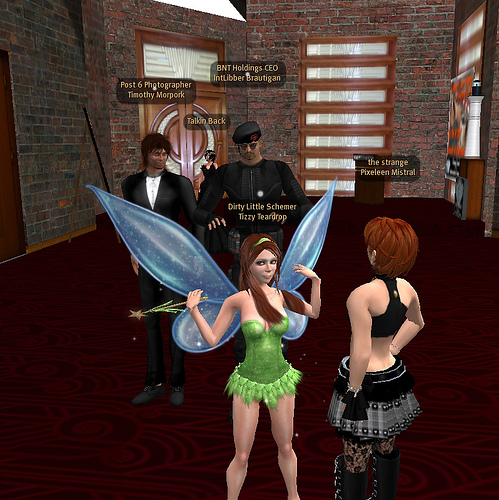 Dirty little schemer Tizzy Teardrop in a fetching green outfit
In addition, it was the first time in Post 6 History that three of the photographers gathered together in one spot as current photographer as Timothy Morpork met with two of his predecessors, the incredibly stylish Bunny Brickworks and Post 6 founder and Class of 2003 member, Marilyn Murphy.
Second Life notables at the party included fabulous fashionista TenshiVielle, Viola Bentham, Jessikiti Nikitin, Ann Otoole, TheDiva Rockin,Artemis Fate, Pip Juneberry, Tizzy Teardrop, IntLibber Brautigan, MooMoney, Jumpman Lane, Dirk Talamasca, GreenLantern Excelsior, At0m0Beerbaum and Herald editrix Pixeleen Mistral. Metaplace communitymanager Cuppycake Cyberstar even joined the throng on the dancefloor asmusic was provided by Post 6 Grrrl and DJ extraordinaire GoSpeed Racer.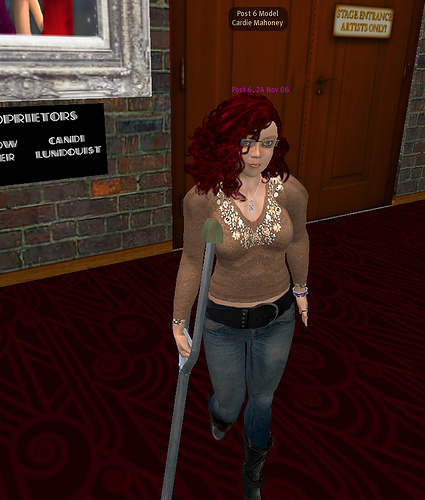 Second Life supermodel Cardie Mahoney on a crutch!
"I have already started talking with the Starlight about possibly hosting another party in a couple of weeks," said Morpork. "I think it would be great to do this on a regular basis- except of course the next one will be earlier so that the European models can make it more easily."
To see much more – including the giant dancing phallus – or to add your own pictures from the party – visit this party Flickr Pool.