by Alphaville Herald on 02/08/09 at 5:00 pm
Copybot code published on Second Life Jira — con artists peddle snake oil

by Junius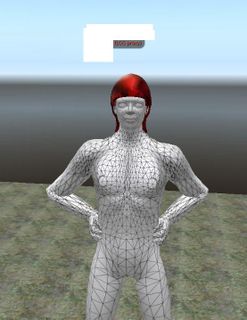 Is the sky falling? The copybot code to make CryoLife and similar clients was published on the Second Life JIRA in mid-June. Anybody can compile a client and add copybot features to their Second Life viewer. It isn't difficult to learn to compile a client. 
The CryoLife papers show how easy it is to export and pirate avatars, and how pirates try to hide importing stolen content. Piracy is likely to proliferate. What can be done?
I know of no challenge-response setup that will detect Cryo.  If somebody claims that they are detecting Cryo with a challenge-response they are a con artist. Cryodoes not communicate with objects or avatars when it pirates them.  Theinformation is already in the client when it rips the clothing or theobject, so no further interaction with the target object is necessary. 
Anybody who tells you they can detect when Cryo is being used with a script that detects changes in a prim targeted by a pirate is a con artist.
Thereis a popular rumor out there that the creator shows up as "unknown" oncopied items.  That is a lie.  If an item is pirated using Cryo thecreator field contains the name of the pirate. 
The pirate canchange the name and the description of the item to whatever he wants. If they paid attention while copying the item they can find out thename and the description on it.  Most of the time the thief can trackdown the store where the item was originally purchased by looking atthe original creators profile, since most creators advertise theirstores in their profile.  All they have to do then is to make a carefulnote of the name and description the original content creator used andthen manually copy that into the pirated object, along with the sameperms. 
The only difference between the original and thepirated version is that the pirated version has a different creator anda different created on date in the object inspector window.  If thereare scripts in the original they won't be copied, but the pirate cancreate blank scripts to put in the object that have the same names andpermissions as the original if they so choose.  This would take sometime and effort but a determined pirate can take anything and make itlook like an original to anybody who isn't intimately familiar with theoriginal.
Next time you see an amazingly good looking avatarinspect their attachments.  If they look amazing and their attachmentsare full perms and all created either by them or by the same avatar(who could be their alt) then there is a chance that they used Cryo topirate the attachments. 
Then again, they might be a gifted contentcreator who only wears their own stuff.  Does their profile reflectthis? They could just be a huge fan of a particular designer who givestheir stuff out full perms, so there is no way to know conclusively. Just check their profile and use some common sense.  If two people are wearing the exact same attachment check both of them.  If the creatoris different on one of them then somebody is a pirate, or at the veryleast bought something from a pirate.
---
Knowledge is Power
---
It is not very hard to compile your own CryoLife client – if you are willing to indulge in a bit of piracy. Thehardest part is finding a seededtorrent of Visual Studio 2005, because you cannot legally purchaseVisual Studio 2005 anymore.  Microsoft sells Visual Studio 2008 butthat won't compile SL.Ok, a few people might have had some limited success with 2008, but ifyou really want to code you need 2005. 
This means that to even beginto seriously work on the software, new coders will have to eitherlegally own Visual Studio 2005 already, or they will have to becomepirates.  That fact alone makes any anti-piracy movement among the SLopen source community incredibly unlikely.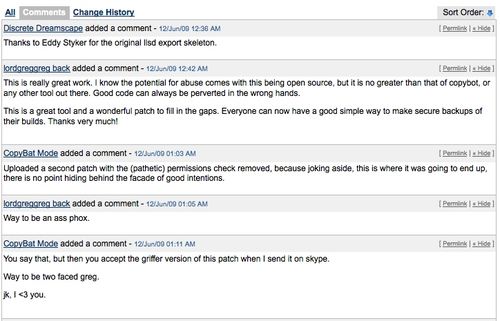 "pathetic permissions check"  removed — Second Life Jira drama follows

CryoLife can bestealthed from client radars like the ones you find in Emerald, but youcan detect its presence by using a listener on channel 8281825.  Youcan use alpha textured prim puke to make it almost impossible forpeople to pirate your attachments.  If an avatar is turning into youthen they are pirating you.  If default wood grain cubes startappearing over an avatars head and configuring themselves intocomplicated link sets rapidly, then that avatar is a pirate.
---
Fear and Loathing
---
"How reluctantly the mind consents to reality!"
~Norman Douglas
Iunderstand that this information will be upsetting to some people,especially to the con artists who sell fake anti-copybot devices.  Ifully expect that these con artists will flock to these papers and tellme off for exposing their lies and treachery.
The fact of thematter is this:  If you are going to operate a business in Second Life,and you are going to make things worth stealing, then you need tofactor piracy into your business decisions.  Denying it and suppressinginformation about copybot clients will only make the problem worse.
The situation reminds me of World War Z. In it, the world is overrun by zombies.  Max Brooks spends a great dealof time describing how the zombie outbreak happened.  The problem couldhave been easy to solve early on, but most people ignored or denied theproblem.  Some even took advantage of the fear of zombies to sell fakevaccines against the zombie plague. 
Today we are in a similarsituation in Second Life.  You can adjust your business decisioncalculations based on the threat posed by piracy or you can ignore it,waste energy by blaming Linden Labs for something they cannot controland stubbornly refuse to acknowledge the threat. 
Virtual businessmodels that ignore piracy will collapse as piracy continues to grow. Even small time tinkerers like me who don't use Second Life as a sourceof income will feel it when sims have to close because, for example,the owners business model might have included using unprotected modelsin their shops to show off their clothing. 
We need business people who don't wear blinders – those wearing blinders are not long for this world.