by Alphaville Herald on 01/08/09 at 8:36 pm
Second Life piracy made simple

by Junius
CryoLife is a copybot client that can be used to steal copies of in-world Second Life content. CryoLife does not steal scripts, animations or gestures – the piracy potential is limited to prims, textures and clothing. These papers are a description of Cryolife use and detection, countermeasures that work, and anti-CryoLife approaches that amount to little more than wishful thinking.
Junius demonstrates CryoLife – and avoids theft – by ripping free hair and free skin template

Before you jump into the comments to call me names, know that I am writing these papers to strengthen the economy, not to hurt it.  Every time a copybot program is mentioned in public I see posts asking those of us who understand the reality of piracy in virtual worlds to censor ourselves.  While I understand that reaction, it is time to move past irrational fear and superstition. Silence is hurting the content creators and shop owners who keep Second Life going.
I am writing these papers because I can no longer willfully ignore the con artists who take advantage of hard working content creators by selling anti-copybot products that do not protect anything.  A small industry has sprung up that is fueled on hysterical fear and ignorance of copybot and this has to stop.  The veil of secrecy surrounding these programs must be lifted immediately.  Business owners and content creators have been lied to for too long.
I'm sorry, but your content can not be safe from being copied and distributed. It is nonsense to blame Linden Labs for this.  Blaming them is like blaming Comcast for letting you get Viagra spam. 
The nature of online virtual mediums, for now, is that data is sent to your computer and your computer must render that data as 3D images.  Anything that exists on your computer belongs to you, if you wish to take it.  Someday this might change.  Someday virtual worlds might become like TV where only the flat 2D image is piped to your computer, but that is years away from where we are now.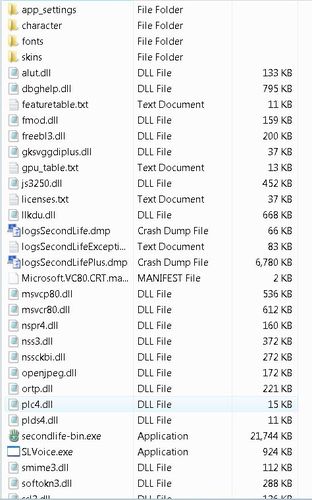 The Second Life community needs to stop panicking and come to gripswith reality.  This is not going to cause the economy to crash. Content creators are not going to leave en masse over this.  Goodcontent creators are stubborn folk.  They put up with bad policies fromLinden Labs, greifers, insane customers and bugs all the time.  Alittle piracy isn't going to scare them.  This is not the virtualapocalypse.  It is the same reality you have been living your secondlives in all along.  Nothing here is new.
Now, I'm not the kind of guy you would normally think of when you imagine somebody going around stealing things with CryoLife.  I don't sell CryoLife, in fact, I don't sell anything, I don't even work on commission. 
I make things and I give them out full perms all the time.  I've made weapons, vehicles, HUDs, particle spewers, RSS readers, you name it.  I've dabbled in everything LSL.  I don't make the laggy crap you see in most of the LSL wiki libraries, either.  I work hard to make clean, smooth running code.  Some people take what I give them and sell it, but I don't mind.  Freebie sellers only alienate customers, and businesses like that never last long.  I don't give away anything that I personally did not make or that doesn't have transfer perms.
I'm no open source activist – I just personally don't feel that the business end of Second Life is worth my time.  I love to make things and see people enjoy them.  That is what drives me to create in Second Life.  I have nothing against the business owners.  They generate the revenue that pays the electric bill for all of this.  I still buy things in SecondLife, even when stealing them is easy.  I am writing this to help the business people, not to hurt them.
---
Obtaining CryoLife
---
I found out about CryoLife from the Herald's interview with Nimrod Yaffle.  The knowledge that it's out there has been around for a while, but the Second Life Herald is where I heard about it first.  It's no state secret. 
After about 30 minutes of searching I came up with a source who had the program.  I convinced him to send it to me via Yahoo messenger for free.  I did a similar thing last year to get copybot via MSN messenger.  These things aren't difficult to get.  You just have to know how to use a search engine and be cool when you talk to the person who has what you want.  If you complain that it's hard to use or that it won't copy scripts then you won't get anything.  It's like buying pot: - just network your way in and stay cool or the dealer won't give you what you want.
---
The CryoLife Experience
---
The file sent to me via Yahoo messenger was just a zip file of the contents of my suppliers SecondLife folder with the files already in place.  I ran it after a couple of quick virus scans.  It ran smooth and connected right away.  I tried looking, but there doesn't seem to be a mac version of Cryo.  I'm running Windows Vista.
The first thing I noticed when I logged in was that it broadcasts to the world that I'm using it.  On third party clients like Emerald my name tag turns blue and right after my name it says (CryoLife).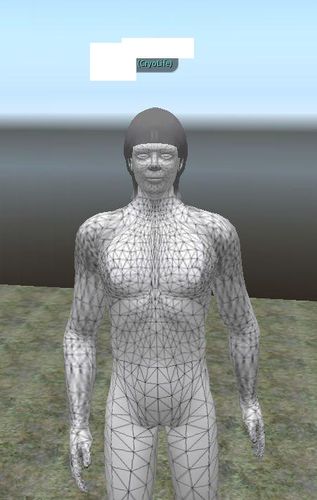 Cryolife has a radar, just like Emerald and Meerkat, and that radar detects other Cryo clients, just like Emerald and Meerkat.  It even shows up on the Emerald radar that I'm using CryoLife.  CryoLife has some fun features other than just the radar and the ability to copy things.  It has a check box in the local chat window to show muted text, it can do fancy rainbow and multi selection particle effects, double click teleport and fun stuff like that, much like Emerald.  These features are controlled from a window called HaxSwitch.  The HaxSwitch window has some features that look like they are designed to crash people's clients, but these features do not work.
---
Exporting Avatars
---
To pirate clothing off of an avatar you need to either take the textures or the clothing.  Pirating the clothes is free, quick and easy.  You just click, name the files and the clothes wind up in your inventory or on your hard drive in the form of .xml files ready for import.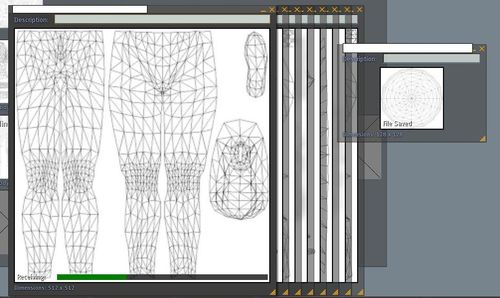 Pirating the textures used to make the clothes is slower and costs 10L per texture to re-upload but it would be an attractive option for somebody who wants to modify their clothes.  If you pirate the textures you can modify them or just re-upload them as is and use them to manually make clothes.  This could be used to remix clothes that you already have.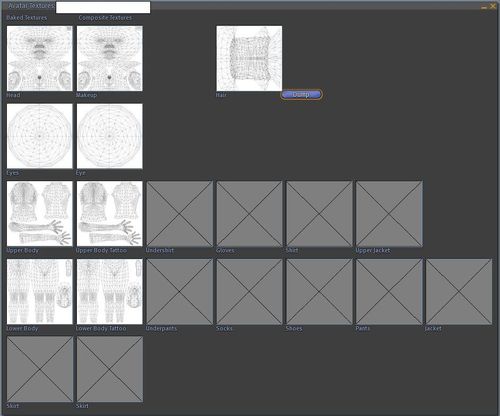 For example, maybe you have a jacket or a shirt that doesn't fix exactly how you want, or a more common problem would be that your shirt doesn't come down far enough so there's a gap between it and your pants.  Perhaps it's at the wrong clothing layer for the outfit you are trying to create.  If you pirate the textures in it you can modify it on your own computer and re-upload it to any clothing layer you want.  Whether you take the texture or the clothing, though, you get full access to the appearance menus like this so you can change the tint of the skin or the color of the clothing easily after it's ripped and you own it.
To pirate the textures you would right click the target avatar, go to more and select AvTextures.  Ignore the Export option here.  This will freeze your client.  The AvTextures window will pop up and show all of the avatar textures in both baked and unbaked forms.  From here you can click the blue dump button on the right and it will display each individual texture for you in its own window.  To pirate the texture just change the focus to the window with the texture you want to take by clicking on it, go to file and select "Save texture as…" and save it.  This method also works on temporary textures if an avatar is wearing a temporary texture as clothing, but it won't save you any L$s, since you still have to pay to re-upload the texture.
---
Pirating Avatars
---
The fast way to pirate an avatar is in the third pie menu where you can select jClothing.  This will open a jClothing menu where you can select which individual layers of clothing you want to take and how you want to take it.  You can take it by copying to inventory or by exporting the textures and body parts.  At the bottom you have options to export all or copy all to inventory.  This process is very fast.  In the wild it's really the only way to go.  You can rip the clothing quickly from unsuspecting avatars and later on in the privacy of an empty sandbox you can rip the textures from the clothing you have already taken.
Copying to inventory is a problem when taking clothes because when you copy body parts, skin and non-prim avatar hair to your inventory you will automatically wear them.  It becomes obvious that you are copying somebody's avatar when you start to turn into them right in front of them.  If you are caught you will probably get ARed and banned from the sim.  If you copy to inventory the items will show up in your inventory with the names "[avatar name] Eyes" or Shape or Skin, or whatever.  The client IMs you the message "rip completed" for each item you copy directly to inventory.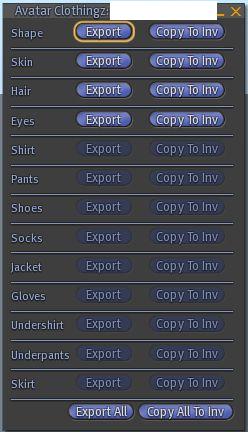 Exporting is the stealthy way to do it.  When you export you don't wear your targets avatar.  Export just copies the avatar to your local hard drive.  When you click it you will get a window asking you to name the items you are about to take.  If I want Bobs avatar I might type "Bob" here and CryoLife will append "eyes", "hair", "shirt", etc., to the end of whatever I type in the file name window.  In main chat the client IMs you with "ripping [avatar name] Shape to inventory."  When it is done you will get the message "ripped all clothing".
To export a primor an attachment you have to right click the item and go to the thirdpie menu.  Here you will find the "Export" option (It's ok, exportworks on objects.  Just don't try to use it when the avatar is selectedor you will freeze up.).  The zTake option on this menu doesn't seem todo anything.  When you click export you will get a window asking youwhere you want to save the object on your local hard drive.  Give it aname and click OK.
[in part 2 and part 3 of The CryoLife Papers, Junius covers copying prims, stealthy CryoLife use, how to identify a CryoLife copier, and effective counter measures - the Editrix ]