by Alphaville Herald on 30/10/09 at 6:02 am
This week the Alphaville Herald is proud to present a special parade of past Post 6 Grrrls as a Halloween Treat for our readers. The second is the talented Toxic Menges, who firstposed for Post 6 in September of 2008 for photographer Bunny Brickworks.
[Itis a pleasure to re-introduce Toxic Menges to Herald readers. Toxic iswell known as a more than just another pretty face, she is a giftedmachinimist as well known for her style, good nature and humor as hertechnical work. I was thrilled when she said she'd pose, and speechlesswhen she produced the outfits you see here. I usually hope to do aviesjustice, but in Toxic's case I know I haven't. Each of these looksdeserves multiple pictures, the fine details she's added areincredible. Without further babbling, I am pleased to present ToxicMenges, Post 6 Girl. -Timothy Morpork]
I think I did Post 6 in September of last year, and a lot has happened since then!
Istill make machinima, some of which has been exhibited at real lifefilm festivals, and has also won SL film festivals. Machinima is suchgood fun, and it's spurred me on to learn skills such as Photoshop andAfter Effects.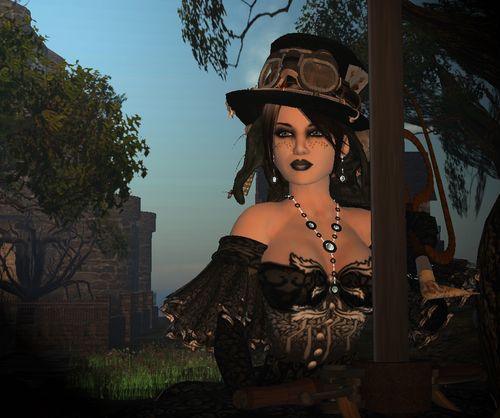 Iworked on (and had an absolute blast with) SL6B and Burning Life 08 and09! I got to know a lot of very very talented folks, and although itwas a lot of hard work it was very rewarding.
Second Life isstill a place of wonder and excitement for me, and I enjoy logging ineveryday and working on exciting projects, and just relaxing withfriends.  I love the creativity and immense talent that drives peoplein SL, and as you can see from the photos, I have a huge passion forthe unusual and odd (yet beautiful) avatars. When you film a lot ofmachinima, you are always on the lookout for the weird and wonderfulto use in your next film, so I have a pretty varied collection!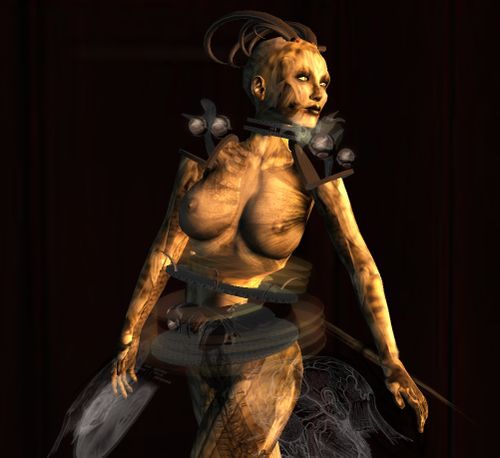 I still can't build worth a cent, and luckily have friends who are amazing builders! I am looking forward to seeing what theycan do for Halloween this year!