by Alphaville Herald on 24/12/09 at 6:31 am
[One would have to live under a prim rock to not know who Celebrity Trollop is. Longtime owner of Second Style Fashionista, Celebrity set the gold standard for quality in blogging, magazines, fashion shows and more. She is a Second Life icon, and I was thrilled beyond words when she not only agreed to pose for us, but also to take her own pictures. Originally featured by Justine Babii in August of 2007, it is an honor to present her for the 12 Days of Post 6. ~Timothy Morpork]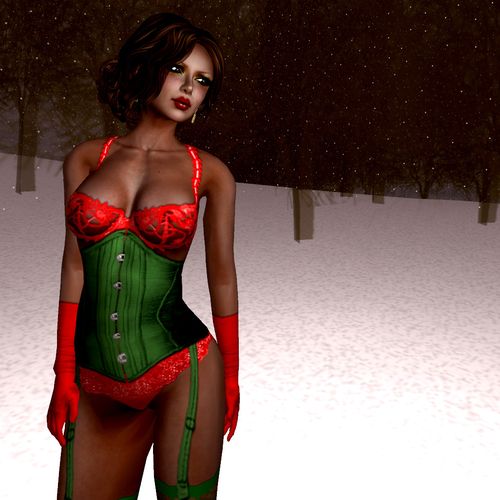 Although I enjoy Christmas a lot, my favorite (US) holiday is Thanksgiving. I guess maybe turkey and pilgrim themed lingerie really isn't as exciting as the Christmas themed stuff?
Anyway, I've noticed a trend that is pretty cool (or pretty disturbing) depending on your point of view.  Over the time that I've been in Second Life, skin quality has grown in quality and in quantity. It remains one of the most technically demanding creations in Second Life, mapping the realism onto a body morph which is (charitably) challenging to do well and manage distortion on.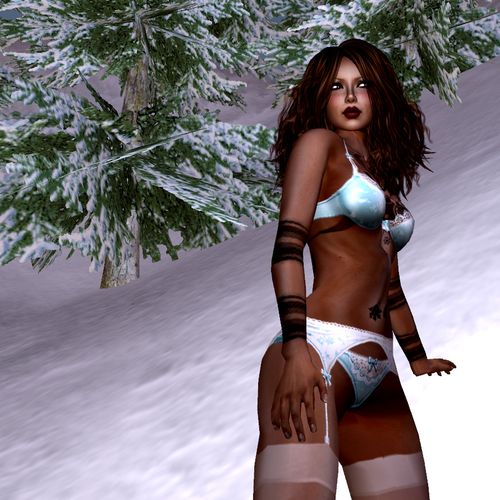 But everything has gotten more realistic and the quality has improved perhaps a hundred fold over three years ago.  The price of skins has remained relatively the same though. They tend to cost around L$1000 per skin, with multiple skin packs being sold for less (sometimes for 25-50% off the single skin price.)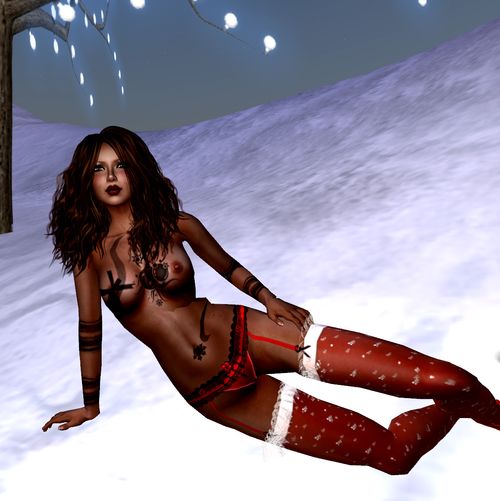 I hope you and your have a wonderful holiday season!
Special thanks to the builders of the Merry Christmas sim (2nd and 3rd shot set), AM Radio (1st shot set) and Hunain Bellic of HUZ Tats for the quick turnaround and fun creativity in the tattoos worn in the 2nd and 3rd shots.
Outfit credits: Blacklace Candy Cane (1st picture), Zaara Kanti Lingerie (2nd shot), Seldom Blue Kira (Christmas set) (3rd shot)