by Alphaville Herald on 21/02/10 at 8:42 am
Estate owner is disgusted with Linden Lab customer service
by Pixeleen Mistral, National Affairs desk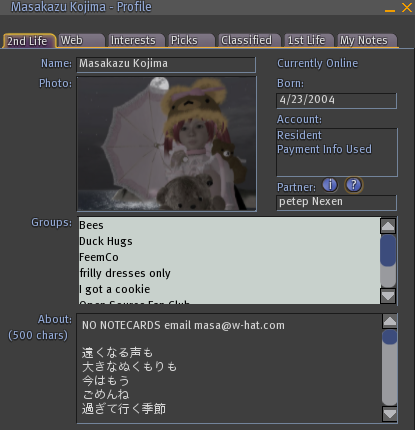 "LL treats their customers too poorly to give them that much money" – Masakazu Kojima
The notorious WHAT sim is for sale to the highest bidder, a surprising development that will send the Something Awful W-Hat goons back to their old mainland base in Baku sim. Estate owner Masakazu Kojima – a resident of Second Life since 2004 – told the Herald that the sale was driven by her recent suspension and Linden Lab's threat of account termination should more offensive objects appear on the W-Hat estate.
Although the W-Hat goons' notoriety, ironic builds, and reputation for griefing has been eclipsed by other groups of late, something in the recent Haiti-themed build apparently caused one Linden to wipe the sim clean and start swinging the ban hammer. Exactly what was broadly offensive enough to lead to this reaction from the game gods remains a mystery, according to Ms. Kojima. Because Kojima's account was suspended, she was unable to log in to see or deal with the situation.
Earlier this week I asked Kojima about rumors of the WHAT sim closing, and she told me, "there was the whole haiti thing. I got unbanned but they said if it happened again they'd terminate my account so I asked them to clarify whether they were really threatening to ban me next time some random person drops a thing they don't like in my sim and they find out before I do and they haven't responded in like 3 weeks so i'm probably ditching the sim"
Linden Lab holds land "owners" responsible for objects which appear on their land, a policy which neatly transfers risk to those that pay for virtual land. Unless the owner is continuously present to police their plots, it is possible for someone – or anyone – to create content that is broadly offensive. The risk for anonymous avatars using throwaway account to taunt game gods with transgressive content is effectively nil, and this has not gone unnoticed by the various griefing and Justice League Unlimited superhero vigilante gangs. It would be cruel to point out that the game gods created this situation by opening the door to infinite numbers of unverified anonymous accounts in the pursuit of growth – so we won't mention that.
"If somebody can find the time to suspend my account why can't somebody find the time to check if I had even logged in, or owned any of the objects, or just send some kind of warning about it? Can you imagine how it would go over if a web host suspended someone's account because of an offensive comment on their blog and refused to talk to them until the suspension was over anyway?" – Masakazu Kojima
Saturday, Ms. Kojima confirmed she was looking for a sim buyer: "I don't really like the idea of just having someone else giving them the money instead, but I like the idea of them getting to sell it for full price again even less … I think what happened is some Linden came to the sim, freaked out, returned everything, then was like oh I need to ban somebody but now I don't know who was involved, I'll just ban the land owner".
Ms. Kojima provided the Herald with copies of her correspondence with the Lab:
===============
Summary: Account Suspended
Ticket Type: Technical Issue
Technical issue: I can't log in
Viewer/web: in the Second Life client software
Crash/Error: Error message: account is disabled or suspended
Disabled Issues: I believe my account was disabled for a Governance issue
Did you check the Knowledge Base?: Yes, and my answer was not there
Preferred Language: English
Details: My account was suspended this morning for "Broadly Offensive
Content or Conduct".
I have not logged in for weeks, but I have been able to gather that an
offensive build was put up in my sim ('what') some time yesterday and
removed by a Linden this morning. I understand the need to hold estate
owners responsible for the content in their sims, but suspending my
account just prevents me from being able to deal with it.
I am willing to take responsibility for the removed content, I'd just
like the opportunity to make sure the land permissions are correct,
create an announcement, replace my infrastructure/security objects,
and change group/estate roles as necessary to prevent it from
happening again. I can't do any of those things while my account is
inaccessible, and the sooner I am able to react the better; the whole
thing literally happened overnight.
Thanks.
===============
[04:40 PM] Dee: Hello Masakazu Kojima! I may be chatting with multiple
residents at the moment, so please do state your issue, and I'll be
with you shortly.
[04:41 PM] Masakazu Kojima: Hi, can you please get someone to handle
my ticket 4051-7322562 or at least provide some kind of communication.
[04:42 PM] Dee: hi Masakazu
[04:42 PM] Dee: I will certainly escalate your ticket for you
[04:44 PM] Masakazu Kojima: do you know when it might get handled? it
is kind of ridiculous to treat customers like this
[04:45 PM] Dee: I can't promise, but I'll try to get you helped today
[04:46 PM] Masakazu Kojima: I've been a paying customer for almost 6
years now. If this ticket is ignored I will cancel my account.
[04:46 PM] Dee: it won't be ignored, Masakazu
[04:48 PM] Masakazu Kojima: It has been so far.
[04:49 PM] Dee: those tickets typically aren't resolved within 24 hours, no :/
[04:49 PM] Dee: but it's not that they've being ignored, it's that
they're answered in the order received
[04:51 PM] Masakazu Kojima: If somebody can find the time to suspend
my account why can't somebody find the time to check if I had even
logged in, or owned any of the objects, or just send some kind of
warning about it? Can you imagine how it would go over if a web host
suspended someone's account because of an offensive comment on their
blog and refused to talk to them until the suspension was over anyway?
[04:52 PM] Masakazu Kojima: It is not acceptable to be treated that way.
[04:52 PM] Dee: I understand
[04:52 PM] Dee: and I'm escalating your ticket.
[04:57 PM] Masakazu Kojima: Is there any legwork you could do to
possibly help it along? Like confirming my last login date, or
anything? I don't mean to be annoying, I'm just frustrated. I'm not
going to wait for the suspension to be up to get a response.
[04:59 PM] Dee: I understand
[05:08 PM] Masakazu Kojima: Is it possible to transfer land without
being able to get in-world?
[05:08 PM] Dee: the entire region?
[05:08 PM] Dee: or parcel level?
[05:08 PM] Masakazu Kojima: the region, and the mainland area that I have
[05:09 PM] Dee: depends on who actually owned it, you or a group
[05:09 PM] Dee: your account will be available within the next 30 minutes
[05:11 PM] Masakazu Kojima: really? Thank you
[05:11 PM] Dee: you're welcome =)
[05:29 PM] Masakazu Kojima: It is resolved, thank you again!
===============
Solved:
(1/2/2010 2:25 PM PDT)
HI Masakazu,
We've lifted the suspension. However, we have to remind you that ,
while we respect the sovereignty of estate and land owners as much as
possible, they can be held ultimately responsible for the way their
lands are used in the matter of a global offense against Community
Standards or the Terms of Service. Accordingly, we must advise you
that we will have a zero-tolerance policy for globally offensive
content under the purview of your account going forward, and will
terminate your access if another AR of this type is substantiated.
Regards,
– teeple
===============
1/2/2010 4:27 PM PDT Reopened Masakazu Kojima Hi,
Thank you, I really appreciate it.
I have a question:
This entire incident took place without my involvement, and my account
was suspended before I could react to it. I had not logged in, so I
don't even know what was in the sim. I know that it was there for less
than 24 hours. I did not receive any kind of complaints, or warnings,
or anything. Is that considered as being under the purview of my
account, and would the same circumstances be grounds for terminating
my account in the future?
If so, are there any tools that would help me deal with or at least be
made aware of a problem, like the currently-disabled "abuse report
email" estate option?
If I make it so only I can change the main plot's name and description
and make sure they are not offensive or encouraging offensive builds,
would that be enough to prevent the whole sim from being considered
offensive, and to hold individuals responsible for their own builds?
As I said, I understand that the sim is my responsibility and I will
do my best to make sure an incident like this doesn't happen again.
I'm not trying to get out of that. I'm just not sure exactly how I am
expected to handle this kind of situation without even knowing about
it, and would like to be as well-prepared as possible to prevent or
respond to any similar incidents in the future.
Thanks,
masa
===============
14/2/2010 10:49 PM PDT Customer Posted a Comment Masakazu Kojima Hello!
Please clarify your threat to terminate my account by 2/21 as that is
my estate billing date and I do not currently intend to renew!
Thanks!