by Alphaville Herald on 04/10/10 at 12:57 am
"Give hospitality to the zoosexuals and furries of the furry fandom" – Kobidobidog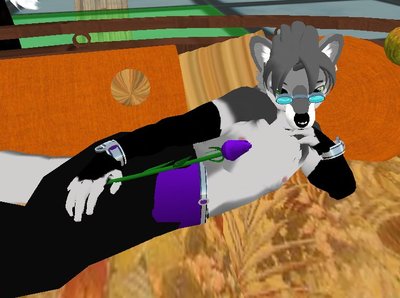 Saturday, Urizenus Sklar received Kobidobidog's response to the 2007 Herald story Are Furries Doomed?
---
On Sat, Oct 2, 2010 at 8:37 PM, kobidobidog wrote:
I am sending this to you because you are only one of two humans I can send this to. I am having difficulty finding the registration, and I can't post this important post.
Furries are good humans, and they are being assaulted because they are good humans. Jesus was different when he was on this planet to and that is why he was persecuted too. Yiff is sex, and we are on a planet of sex, and I wish humans could get used to sex on a planet of sex and even genetilia.
Humans are animals that think too much and humans should not judge:
Romans 14:10-13
But why dost thou judge thy brother? or why dost thou set at nought thy brother? For we shall all stand before the judgment seat of Christ.
11 For it is written, As I live, saith the Lord, every knee shall bow to me, and every tongue shall confess to God.
12 So then every one of us shall give account of himself to God.
13 Let us not therefore judge one another any more.
Ephesians 4:29 King James Bible
Let no corrupt communication proceed out of your mouth, but that which is good to the use of edifying, that it may minister grace unto the hearers.
Those against the furrys, zoosexuals, and bestialists do not edify humans being good to humans, and as a result they are not good to non-human animals either. Whoever cannot give what they do not have in their heart.
Romans 12:14
Bless them which persecute you: bless, and curse not.
15 Rejoice with them that do rejoice, and weep with them that weep.
16 Be of the same mind one toward another. Mind not high things, but condescend to men of low estate. Be not wise in your own conceits.
17 Recompense to no man evil for evil. Provide things honest in the sight of all men.
18 If it be possible, as much as lieth in you, live peaceably with all men.
19 Dearly beloved, avenge not yourselves, but rather give place unto wrath: for it is written, Vengeance is mine; I will repay, saith the Lord.
20 Therefore if thine enemy hunger, feed him; if he thirst, give him drink: for in so doing thou shalt heap coals of fire on his head.
21 Be not overcome of evil, but overcome evil with good.
I do not want to hear or see humans weeping and gnashing their teeth at the Second Coming because they were bad to their neighbor. They are letting a wonderful gift slip through their fingers like sand.
Romans 12:9
Let love be without dissimulation. Abhor that which is evil; cleave to that which is good.
10 Be kindly affectioned one to another with brotherly love; in honour preferring one another;
11 Not slothful in business; fervent in spirit; serving the Lord;
12 Rejoicing in hope; patient in tribulation; continuing instant in prayer;
13 Distributing to the necessity of saints; given to hospitality.
This means to give hospitality to the zoosexuals and furries of the furry fandom too, and not what the Sodom and Gomorrah humans outside Lot's house wanted to give to Lot.