by Alphaville Herald on 01/02/07 at 9:00 pm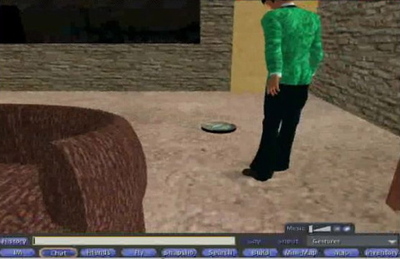 If you've been worried about the detritus that builds up in Second Life as a result of prim drift and Tiny sex, worry no longer. Resident Mooba Sienkiewicz (aka Greg, the myRoomBud crew's dad) sends word that he's created a virtual Roomba for use in-world. "One day a real Roomba's gonna come along and wash all the scum off the Grid," Mooba says. Actually, I made that quote up. But he did build a Roomba for SL. Catch a video of the virtual Roomba in action on the myRoomBud SL page.
Attentive Herald readers will remember iHerald Enterprises groundbreaking RealFrogger event held at last year's SXSW Interactive festival. This latest development holds more promise for the virtual world: RealFrogger in Second Life? We should be so lucky.
— Walker Spaight (cross-posted from 3pointD.com)