by Pixeleen Mistral on 01/07/07 at 2:28 pm
LL's extreme smackdown – Woodbury University's island deleted for TOS violations!
"a fascist company-controlled cookie-cutter world" – Tizzers Foxchase
by Pixeleen Mistral, National Affairs desk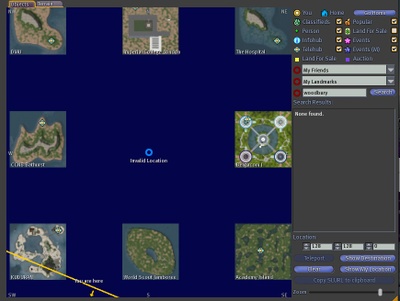 not even a smoking crater was left…
Sometime Saturday, Woodbury University's Second Life island dropped off the map of the virtual world. Second Life players have grown accustomed to intermittent outages from their metaverse service provider, sometimes spinning fanciful stories about tsunami and seismic activity as part of in-world roleplay. A virtual catastrophe does not appear to have been the cause of Woodbury's demise, however.
It appears the complete disappearance of an entire virtual university was a disciplinary move on the part of Linden Lab – for Terms of Service (TOS) violations. Tizzers Foxchase, an administrator of the virtual land group for Woodbury University, provided the Herald with a copy of the virtual eviction notice:
---
Tizzers Foxchase: (Saved Sun Jul 1 12:19:36 2007) Linden Lab has continued to find inappropriate uses of the Second Life region "Woodbury University" under your control. On the 16th of April, you were informed of problems with the activities taking place in the region. Many members of the Woodbury University group (which controls the region) have been detected before and after that date causing severe problems in Second Life, in violation of the terms of service. These problems include incidents of grid attacks, racism and intolerance, persistent harassment of other residents, and crashing the Woodbury University region itself while testing their abusive scripts. Due to the ongoing problems, Linden Lab has no option but to immediately close the Woodbury University region. If you believe that this notice has been sent in error, or that the details of this incident have not been adequately examined, please address your concerns in an e-mail to abuse-manager@lindenlab.com Sincerely yours, Customer Support Linden Lab 945 Battery Street San Francisco, CA
---
Earlier this afternoon, I contacted Ms. Foxchase to learn if the Lindens have refunded Woodbury's money, what the plans the displaced residents have, and how the Linden ban on Wodbury's sim might affect educational uses of the metaverse.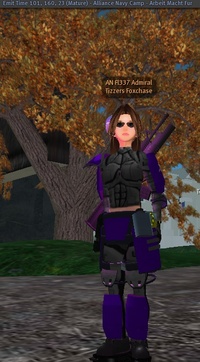 Pixeleen Mistral: so in other words, Linden Lab pwned Woodbury
Tizzers Foxchase: Right, which was totally the wrong thing for them to do.
Pixeleen Mistral: how so?
Tizzers Foxchase: It's as if LL took Friedman offline because we decided to hang out in the WTC basement or something, Intlibber can't be held responsible for the actions of every person that comes to his sim, and especially things they do outside of it. That's what they expected of me.
Pixeleen Mistral: what does this do for Woodbury University's commitment to Second Life as an educational platform?
Tizzers Foxchase: Pixeleen, education and educational institutions are dangerous, people they are a place where people can think freely. They start asking questions and doubting authority. If WU is going to exist in SL, we're not just going to be a static virtual mock-up of a RL campus, we're going to be an active, living, breathing entity. Linden labs is like the catholic church, and we at WU are the modern Luthers.
Pixeleen Mistral: I wonder who the modern martin luther is in that analogy?
Tizzers Foxchase: We are. In fact WU is going to be writing a book about it. Second Life is not the peachy euphoria that it's advertised to be, it's a facist company-controlled cookie-cutter world where all the citizens are expected to comply and conform to the model of life that the Lindens have outlined.
Pixeleen Mistral: btw – who was paying for the Woodbury University sim? Did they get a refund?
Tizzers Foxchase: The University was, it was coming out of the communications advertising budget. I'm not sure if they did, but there's hell to pay if they don't. We have people working on the inside to get it back. And by on the inside, I mean people who have developed a personal friendship with Philip Rosedale.
Pixeleen Mistral: I ask because a lot of the institutional "purchases" are pre-paid for a year or 6 months
Tizzers Foxchase: I'm not sure of the financial details, all I know is, there was quite a large financial investment made.
Pixeleen Mistral: this all happened over the weekend – so I don't imagine that the office staff know anything yet
Tizzers Foxchase: But do you see where I'm coming from? 99% of the RL schools in SL are nothing but boring models of a RL university. WU dared to be different.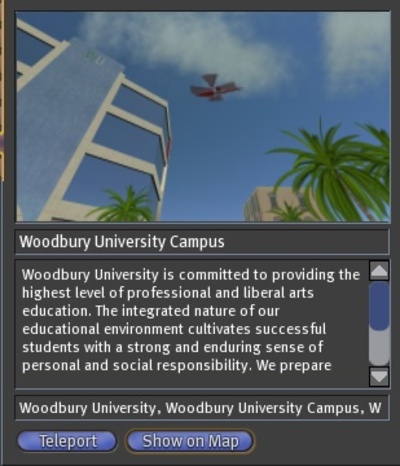 Pixeleen Mistral: WU was certainly different
Tizzers Foxchase: The WU sim was purchased as a place to study virtual culture. /b/ and 4chan personify virtual culture. What better guinea pig or test subject, than to bring culture to us.
Pixeleen Mistral: I wonder if I should run this story now – or wait and talk to some RL people at Woodbury tomorrow?
Tizzers Foxchase: I can give you the direct phone number to MC Fizgig (Dr. Edward Clift). He is the chair of the school and is really the driving force behind the campus. I'm sure he'd be happy to answer any questions.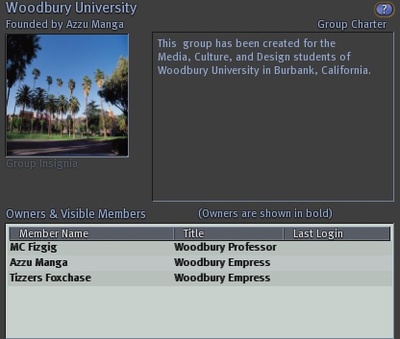 Pixeleen Mistral: so what is the next step – besides trying to get the sim back? if the Lindens won't give it back, then what?
Tizzers Foxchase: We are going to begin writing a book. And waging a barrage of media, exposing the truth about the metaverse.
Pixeleen Mistral: so you would not recommend SL for education? or its only good for some sorts of things?
Tizzers Foxchase: It depends on your goal. If you essentially want a virtual museum, by all means SL is a great place. But active involvement comes with a bit of risk, the risk that Linden Labs may disagree with your viewpoints and the way you operate.
Pixeleen Mistral: any other messages for the Herald readers?
Tizzers Foxchase: Second Life has not seen the last of Woodbury. You may be able to kill the physical establishment but you can never kill a mindset. Ideas are bulletproof.
Pixeleen Mistral: so you will still be around
Tizzers Foxchase: Indeed we will.
Pixeleen Mistral: I suspected as much
As the displaced residents of Woodbury University consider their options, I was struck by the irony of a group that helped displace the Alliance Navy from half their Emit Time sim base being displaced by a higher power – the Linden game gods.
Certainly Woodbury University has attracted a rough crowd at times, but with the Bragg lawsuit hanging over the Linden Lab, the question of "ownership" of virtual land is brought into stark focus here. Will Woodbury write off its investment in virtual real estate? Will the Lindens refund all or part of their payments? Is it possible that the Lab may rehabilitate Woodbury and turn it into an example of compassion in action? This seems unlikely to those who remember the destruction of Satyr sim. While we wait for others from Woodbury to respond to Herald inquiries, perhaps the only clear lesson is that rolling with griefers may start with lulz but end in tears.