by Pixeleen Mistral on 24/09/07 at 4:35 pm
by Pixeleen Mistral, National Affairs desk
Taking a cue from game developer Linden Lab, Mudkips Acronym has embraced open source software and published scripts for griefing weapons used by the notorious "Patriotic Nigras" griefing gang. Previously access to these scripts was limited to those who asked nicely, or passed some sort of initiation to join one of the gangs.
By opening the formerly proprietary tools to community development, Mr. Acronym presumably hopes to help the community by enlisting more people for testing – and innovating – with the PN tools platform. Sources report that Mr. Acronym was tired of being IM'ed and e-mailed with requests for the scripts, and decided to simply publish them at his web site: tetravalency.org. Apparently software support headaches are universal and even extend those with software designed to be annoying.
Mudkips Acronym – sometimes known as Mootykips – is the founder and former acting leader of the PN, but recently stepped down to pursue other interests and spend more time with his family. By publishing scripts and detailed instructions for the assembly of various weapons such as the Autocager, Lulz Turtle Block Bomb, Grid Infector, IM Spoofer, Siezurecube, Money Thief Script, and Mass Client Flooder, Mr. Acronym apparently hopes to remain a contestant in the stupendous ironic badass race – and achieve Plastic Duck-like status in the metaverse.
Of nearly universal interest is the note on "How to raid SL without getting banned". This document describes in some detail how to evade Linden Lab's hardware and IP address bans. Long-time residents of Second Life have grown used to the idea that hardware and IP address bans are ineffective – and the recipe books provides some insight into why this is true. Why the Lindens are unwilling to require some form of payment to enter the metaverse – which would slow if not stop the flood of script kiddies – is unclear. Some believe this is connected to advertising imperatives overruling the security of residents.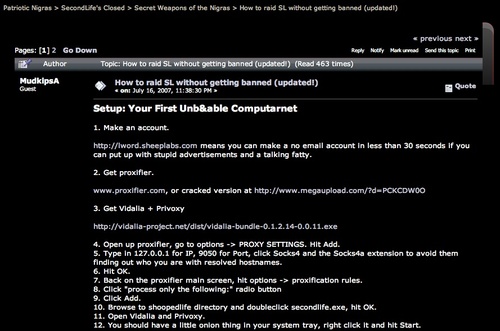 Why the griefers keep coming back
When the Herald asked a few scripting experts to examine the recipes, the consensus was that these weapons are not very impressive. Poor documentation of the code itself was cited as a general problem and a number of the weapons do not perform well or at all. Perhaps part of some recipes has been withheld, or the weapons depend on quirks in the world that no longer exist?
The notes on how the mass client flooder functions are representative instructions included with the various script kiddie toys:
"Basically, it picks up the nearest 16 avatars (llsensor has a limit of 16 objects or players at any given time) and floods them with an animation request. The blue animation request dialog boxes only have a yes or no button, lol no mute button though. Also, if you are typing in chat and a box pops up in the corner, it stops and brings the box to the front as if you had clicked it so this thing makes it impossible to type in chat once you're being targeted. Therefore, unless they managed to wander out of its range or crash and relogin to a new region, they won't be able to report you. Sometimes it seems to delay my ban by a few minutes and other times it seems to increase the time. I think it depends on if a linden walks into the sim or happens to come into range. It also does two other things, every avatar that gets spammed has their named copied and then the object changes its name to theirs and shouts a message."

It remains to be seen if Linden Lab will take effective action against this sort of gameplay. Certainly the Lab's movement to open sourcing the SL client would seem to simplify the task for sidestepping server-based bans – although mandatory client updates can apparently require a few days of effort to create a workaround, according to our sources. However, once a new version of the patched SL client – Shooped Life – is available, the griefers can continue their play. The disruptive effect of last week's mandatory client upgrade may account for the recent decline in large scale griefing incidents. Presumably a new version of Shooped Life will become generally available in due course, and the game will continue.
The Herald's two part Inside the PN series continues tomorrow.