by prokofy on 03/09/07 at 10:49 pm
By Prokofy Neva, Kremlindenologist
[update: photo credit for the picture below - Tara5 Oh. The original picture and Tara5's interview with King Philip can be found here: here]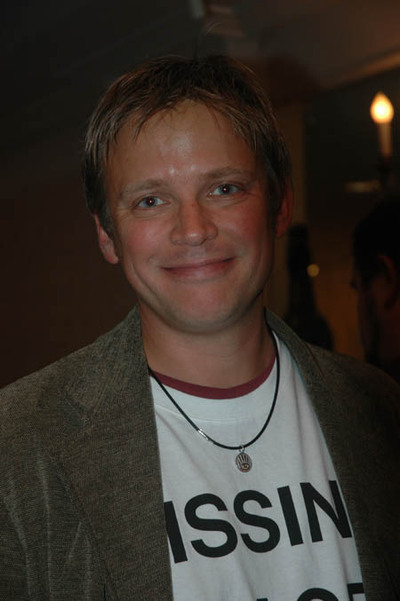 Mrs. Linden's little boy is growing up. The fair-haired, Donnie-Osmond-cute repository of our hopes and dreams, "El Chefe" who says we can "blame it all on him," is now honed into a competent media sound-byter and Customer Experience Specialist more caring than the finest call center has to offer. Back at Virtual Worlds 07, Philip blundered on stage with his architecturally-correct shock of hair, saying that gosh, he engineered this platform, and wow, all these people came on it and he didn't know what to do with them — before rushing off to hobnob with Bill Clinton on Renaissance Island. We weren't impressed.
By contrast, at SLCC, his haircut was flat, with visible, no-nonsense bangs — and he was oh-so-accessible. While Philip didn't give an interview to the Herald (they didn't ask — they're too kool for skool now), he made lots of time for Reuters and hung in for the entire 3 days of the fanboyz gathering constantly chatting with residents. At his keynoter, he was all charts and graphs and apologies for poor performance and promising to do better, opening his modest corduroy college jacket to flash a t-shirt with the words MISSING IMAGE and saying "That's me, in the way."
Oh, to be sure, once the party got started at the exclusive Volunteer's gathering, Philip came sporting a transparent pearly-white golf shirt, which exposed what Ingrid Ingersoll immediately dubbed "The Phipple".
Moving the Slider

Still, we're a long way from SLCC 1, where the fangirlz got together to buy Philip a replica of his avatar's trademark rocker T with the gaping red mouth, and even sewed on a sequined crotch to some stone-washed jeans to mimic his scripted, blinging boxers. I got a glimpse of the awkward teenage Philip back then, seeing him blush when I said, with his risque outfit on, he needed to move the "package" slider.
Now, Philip is all delivery. He hung out at the workshops and stood around in the hallways after the talks to answer the most obvious questions, "Why is land so expensive?" in his earnest manner, which has now developed away from laconic California hippie or excited Tesla into something like that quintessential television newscaster's voice with the STRESS on syllables where YOU don't expect it (Corey Bridges of Multiverse does a wonderful imitation of that…wait…I don't think it's an imitation.) "Because we need to give YOU guys the TOOLS to manage the ECONOMY," he explains.
I caught up with Philip in the corridor after an SLCC panel and asked him why he was logging on so much more now to the world. Should we worry? Shouldn't he be retiring to a real-life island like Crete?
I could see the gears turning in the Customer Experience Call Center and finally he said, "Well, Prok, I'm visiting all these cool sites that everyone is telling me about like Straylight." I had sent him a landmark to Straylight. "And not only you," he said, ever sure to make sure there's no FIC — except when there needs to be.

NAPKIN TUTORIAL
Lunch was the usual conference-circuit draped chicken, and as we sawed away, with Arbitrage Wise and Lindsay Druart of SL Capital Markets (yet another stock exchange) plying him with financial questions, Philip dead-panned about Ginko. "I talked to those guys," he said, seeming to imply that he has known of them for a long time and didn't believe they had intended a Ponzi scheme. He went on to advise, like Zee, "If it sounds too good to be true, it probably is." Despite repeated pressing to get involved, either by restoring Lindens to those who lost them, or helping to prosecute Ginko, Philip would only reply: "We are staying away from this."
"But Benjamin Duranske has you wearing stripes by the end of the year, Philip — you're the cashier for these alleged scams," I put in. He grinned, all California white teeth and bronze tan. Philip has an uncanny way of conveying repressed mirth and engagement that probably cover up some actual uneasiness or exasperation.
I said I hope he *did* stay out of the banking and stock market business — whether to GOM or regulate or close — precisely so as not to foreclose any interesting and innovative experiments in making more credit and capital to people around the world with the platform of SL. Of course, not even Grameen Bank is the wonder people imagine, what with the flipping of international development agency loans and venal international civil servants, but still…More white teeth.
Philip hit the softball. He nodded enthusiastically. He loves socialist-capitalist thingies like Grameen Bank — and he didn't *call* Ginko a Grameen Bank, but merely said he was staying out of it so that the Grameen Banks of the world could emerge.
But…back to sim performance! Soon he was laying linen napkins end to end to explain to Arbitrage, who seemed to be drilling him on why you can't drive or build well between sims, modeling this complicated, intensive "hand-off" of agents between sims. Of course you can just prop up the build with a rooted prim. Philip was as eager and enthusiastic and just plain *helpful* explaining the age-old sim-crack problem as he was 5 years ago.
KEEP HIM AWAY FROM THE CODE
At the Linden party, at least one staffer went racing across the room to get some face time — saying Philip hadn't been in the office for 4 months — it's wall-to-wall conferencing, travel, media interviews. They keep Philip away from the code now (Cory, too) as one Linden explained — I guess it stands to reason, as otherwise SL would suffer even more than it does from "Founding Father Syndrome".
So just what *is* Philip doing all day? Customer satisfaction surveys. Performance metrics. Cleaning up SL of gambling and ageplay, burnishing his image, in order to sell? He keeps saying no, preferring to re-drop the already-made hint that the server code will be open-sourced within a year, and dodging detailed questions about just what the business model will be by that time.
I hobby-horsed him on the Orientation Island issue, and Draxtor, my favourite German machinima TV guy, flipped open his $2000 laptop that was making a movie right as we spoke (and if he had been Scoble, he could have uploaded it right there to Kyte.tv). 'Do you mind getting on the news?" Draxtor asked, but didn't really stop filming.
Philip barely missed a beat, and with a flourish, took out a notebook to write down my suggestion about orientation — impressing Draxtor. He wants you to feel *heard*. I think the program for the Reg Apis needs to be opened up to others to assess their metrics, too, and even non-reg API orientation such as the resident-created infohubs need to be measured. "OK, tell you what," says Philip, all business. "I'll put everyone who wants in the list, but if their retention rates aren't at a certain level, they will be cut out."
SOCIAL DARWINISM
"Social Darwinism!" I cried. "It would be better to just sell the slots on the list," I said.
"It's the same thing — people who can compete are the same ones who can afford to pay," Philip said matter-of-factly, always dismissive of open markets and trading them for technocratic meritocracy. "But newcomers can buy in if they raise the money," I countered. It's hopeless.
"Philip looks like a school-boy called to task when you asked him the question after the keynote," Draxtor commented later. I had asked him what SL's influence was on First Life now — and in years to come — as that is how ultimately it would be judged. No, it wasn't a trick question, as Chosen Few thought it was — it was genuine. Would it erode cultural differences? This often happens with mass-market American-made entertainment media overseas. Would it drown out distinction? Or even when hundreds of thousands of Russians and Chinese can in theory log on to Virtual Japan?
As for today's influence, he replied sanguinely with a mantra that is long-practiced in media interviews and around the office: "We have a thousand people who make more than a $1,000 a month." Um, is that after tier? As for tomorrow's…"I think 10 years down the line is when we start to see Second Life taking away time and energy from the real world," he envisions — with a grand shrinking of the communication sphere. And a seeemingly preposterous notion that virtual worlds will be "bigger than the web."
Back on earth, the performance charts and graphs told a pretty frank story of a service not always available, with poor FPS for a good chunk of the time and for many people and lost inventory — which he declared as "less" by measuring only one kind of lost inventory problem (no rez from inventory) — a premature declaration indeed as the bug was back this weekend.
WOULD PHILIP BETRAY CHINESE DISSIDENTS?
Many might associate Philip with the ultimate in freedom of expression and creativity, right? That's because you haven't figured out that engineering the software is far more important to him than this or that freedom of expression case. Listen to his recent BBC interview. He makes a tremendous mumble about China. The Beeb reporter asks him very directly whether he'd turn over the information about a Chinese dissident to the Chinese government, the way Yahoo did.
Instead of just saying "yes" or "no," he embarks on a side trip, saying that Yahoo has to play to the lowest common denominator, but SL will be on each country's servers, and LL will "enable the platform" so that every government can "have the tools they need" for implementing their local laws. Um…is this essentially making China's work easier for it?
He speaks vaguely about a common set of values that will get evolved as we are all standing "here" — a here that at one point in his interview is "on servers in the U.S. where we have to abide by U.S. law" but at other points seemed more like what Jerry Paffendorf has called "the other here" which is this common sensibility in SL, which presumably overrides pesky things like Chinese censorship (by ways that aren't clear yet).
Contradicting his point about Yahoo and common denominators, Philip explains ardently that if, for the good of the platform, to make it available to the most people, they had to make some restrictions due to laws (like those against gambling in the U.S.), then, that sacrifice would indeed be made. Would their be some Chinese dissident eggs broken in making this omelette? The reporter pressed: will you in fact turn over the dissident names?
Philip begins to mumble again — but professionally and smoothly mumble, like "We as a company pride ourselves on maintaining privacy" blah blah blah. He concedes that they would have to look at each case.
We're left thinking that if LL ever has an office in Asia, and the Chinese government asks them to shut down a parcel or give a name, "for the good of the platform," they just might do it — all their high-minded talk about not playing to the lowest common denominator like Yahoo, notwithstanding.
This is what it takes — Philip enduring endless fanboyz questioning, falling on his sword and displaying poor performance charts and vowing to do better, making some patter up that sort of kinda sounds like it isn't like Yahoo about China. This is what it takes so that "everybody in the world will use Second Life — something he appears genuinely to believe in.