by Alphaville Herald on 02/10/07 at 6:00 pm
The communist struggle against fascism in SL
by bitha Botha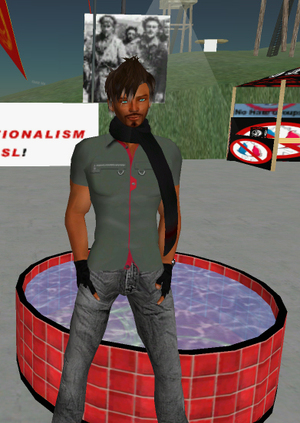 Living in second life and a so called "God sim" means a lot of the players are free to go and do as they please. However this is not without consequences, as political ideas and agendas spread and clash. Recently I met with a man who calls himself Smoke Wijaya – the owner of the anti-FNSL parcel in Pahto sim. Smoke Wijaya is a communist and anti-FNSL leader. For those who have not been paying close attention, the anti-FNSL strives to purge facism and racism from Second Life, and their base, located on what is described as a "fascist sim" is decorated with giant fists, spotlights and tributes to malcom x.
According to Wijaya he started the group two months ago, and the parcel he sits on now is an outlet to purge those who preach hate, nazism, racism, nationalists and assorted fellow travelers from Second Life the like.
Since Wijaya and his group have taken it upon themselves to wipe the SL slate clean, I sat down to have a chat with him about what his group stands for and its growth from humble beginning to members in the several hundreds – a number that even the FNSL can't come close too.
bitha Botha: I know we've talked in the past but we haven't really gotten to what your group is all about. basically, when did it start?
Smoke Wijaya: my group?
bitha Botha: Well, your little place here. anti-fnsl
Smoke Wijaya: Oh right. Well, I bought this land when FNSL made their new HQs here, which will be about 2 months now. This is just an extension of what anti-FNSl and other anti-fascist groups have always done. Adjacent land to oppose and expose them.
bitha Botha: Have you ever had any problems being adjacent to your neighbors? I mean, they are right next to you guys. Have they ever tried to grief or cause a ruckus here?
Smoke Wijaya: well, being adjacent to them is what WE choose for…not them. And they are not really try to grief us. They have tried some attacks, but land permissions won't let that happen… and they don't oppose/protest against us, like we do with them.
bitha Botha: I notice that zoing (the owner of the FNSL right next to you) has caused some problems the few times ive been here, does he do that often? Harassment I mean – or does that come with the territory?
Smoke Wijaya: the latter, but he is the one that is most around us to troll etc, yes…
bitha Botha: how big is the FNSL movement in Second Life? as well as the anti-FNSL movement
Smoke Wijaya: not so really big atm…they have had some internal power-play and problems. Though it looks like they are stepping up again and regaining strength here in Pahto. The group(s) of FNSL are not that big atm, like together maybe 100 people. Anti-Fnsl as group has several hundreds, but is not so very active atm around here. the parcel we are now on is set to CPSL, which has about 160 members.
bitha Botha: Do you have other parcels?
Smoke Wijaya: the anti-fascist movement is divers..several groups, like also antifa, anti-fascists etc.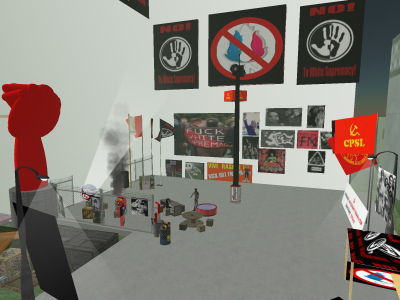 Smoke Wijaya's fascist fighting base
Smoke Wijaya: other parcels concerning anti-fascism?
bitha Botha: yeah. We have acquired one next to a new place of Renouveau Francais. This is a group that belongs to the European Nationalist Front.
bitha Botha: and they all fall under the CPSL?
Smoke Wijaya: those two are set to CPSL, yes. I cannot leave permissions open to everybody

bitha Botha: As a citizen of second life, and communist (correct me if i'm wrong) how do you feel about the state of affairs in second life? I understand that communist is kind of a strong word
Smoke Wijaya: what do you mean with the state of affairs…the platform, the social experience, the governement(LL)…?
bitha Botha: Yes. what's your opinion and what could be done to better the affairs of second life?
Smoke Wijaya: well, LL should become a public organisation, a democratic structure should be implemented, stability and bugs should get solved before more bling is added to the platform, the servercode needs to get opensourced….
bitha Botha: I can agree with that, if it was opensourced I dont think we would have as many problems as we do now.
Smoke Wijaya: we would at least not be totally dependant on what those "gods on olympus" will think is good for us
bitha Botha: indeed
Smoke Wijaya: but in this anti-fascist setting, I do not think any technological or moral change will help the struggle against fascism…
bitha Botha: true
Smoke Wijaya: LL is already quite quick with removing things like swastika's etc.
bitha Botha: but then again there are some people who hold the swastika as a holy symbol, such as hindu's
Smoke Wijaya: yes. it is defitnitly the context that makes the meaning of the symbol. I totally agree with that…we cannot detstroy all budha statues with swastika as sun because of nazism. but used in a nationalist setting, campaigning against gay-rights, against immigrants, against different culture in general, it is clear they do not mean the "sun"when they use swastika… now FNSL will look out with using them…but we do see a lot of other white supremacy symbols being used.
bitha Botha: have you ever encountered problems outside of this parcel because of the group you belong too? such as being assaulted in public?
Smoke Wijaya: yes…communists/socialists are a willing target for some

bitha Botha: We'll I'd like to thank you for taking the time to talk to me and wish you luck with your current projects
Smoke Wijaya: sure thing and thanks ~*420 smoke weed everyday*~
bitha Botha: Indeed