by Alphaville Herald on 07/06/08 at 8:24 pm
ex-Admiral's Nanao Mahfouz's double tool leads to chatspy trouble
by Pixeleen Mistral, National Affairs desk
If the whispered rumors are true – and the over-the-top chatlog is real – the position the Alliance Navy leadership finds itself in must be excruciating. Former Admiral Nanao Mahfouz was allegedly involved in roleplaying incest ageplay with Jezabeth Poutine when a bullet with a scripted chatspy bug was fired into the home where the couple was enjoying some interactive creative writing. The bugged bullet relayed the chatlogs out of the love nest, and the drama began.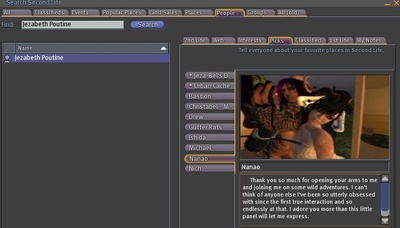 Jezabeth has had some wild adventures with Nanao
Cyber sex is as common as lag in Second Life – but certain conventions are generally observed. Cyber in open chat is frowned upon as an invitation to trouble, and Linden Lab takes an extremely dim view of anything that appears to encompass sexual ageplay. But when the improvisational literary lust is rising, some residents are known to shortcut safe-cyber as their muses invent, and then engage in some rather sordid scenes. The virtual sex chat narrative is dutifully logged by Linden Lab as it is relayed between participants, and other residents with the right sorts of virtual spyware can share in the fun – then pass the logs on. And this brings us to the story of a certain Admiral in the Alliance Navy.
The logs of the Mahfouz-Poutine encounter include detailed descriptions of Nanao's impressive physique – with a penis, a second penis, and a tail. Also impressive was the consistent use of plurals in descriptions of Nanao's twin tools – staying in character is the first rule of roleplay – though what sort of soldiers the Alliance Navy has been recruiting could be a subject of speculation.
[WARNING: If you are (i) at work or (ii) under 18 or (iii) easily offended by things like incest ageplay STOP READING NOW!]
The chatlogs passed to the Herald include gems such as:
"[13:42] bullet: Nanao Mahfouz/me'd seized her firmly by the hips, not wanting to miss out on the sudden penetration as his throbbing lengths filled, squeezed their way into both of her tight, young holes…lifting his hips to draw the writhing tendril of his tail beneath him, the meaty, smooth length coiling about her forearm…
[13:42] bullet: Jezabeth Poutine/me …She whimpers, her little body bucking forward, arching down as she watches between her own thighs and down between his, "yes Daddy." She pants out softly before pressing her hips down, pausing to whimper as his thick meats painfully stretch her holes that had gone unused in his absence, "Nygh!" Her gaze intently watching her own plush, pink babycunt suckling in her father's huge tool.
[13:47] bullet: Jezabeth Poutine/me lets out a loud breathy cry of shock and pleasure as she feels the strength of her father's grip on her young hips and then the slamming tug downwards, rendering her powerless as she is suddenly stretched wide near torn on her father's enormous lengths… …She blushes deeply the color flooding down to her tiny babytits as they bounce with the next hard slam of his cocks… "
and so on.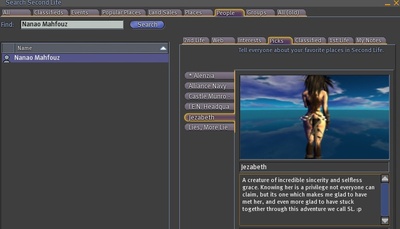 Nanao has had the privilege of knowing Jezabeth
Could this explains how Admiral Mahfouz suddenly was out of the AN and an ex-Admiral to boot? But ex-Admiral Mahfouz is the titular owner of the Dorien sim where the Alliance navy base is located, and he was quickly reinstated in the AN after a one week absence, although he lost his rank and had to repeat basic training.
Our sources tell us that a certain amount of blackmail vigorous negotiation took place as the AN leadership considered what the loss of the Dorien sim land could mean — possibly another furry death camp. Meanwhile, ex-Admiral Mahfouz may have been concerned about the Linden governance team swinging the ban stick as they clean the metaverse of undesirables in preparation for M Linden's appearance at the Second Life 5th birthday celebration.
Seeking the reaction of rank and file Alliance navy troops, I stopped by the Dorien base, where Izaea Qinan explained the situation to me:
---
Izaea Qinan: Nanao was one of two members who was, in his off time, roleplaying on private land.
Pixeleen Mistral raises one eyebrow
Izaea Qinan: Someone from another group came in, fired off a spy bullet at the home, and gathered logs of the two. He took out choice bits, of people saying things like "baby girl," to try and make it look like ageplay.
Izaea Qinan: He then circulated the logs around. Got dozens of people to abuse report them.
Pixeleen Mistral: they were cybering in open chat?
Architect Jarrico: A lot of people do variations of 'cybering' in spatial chat.
Izaea Qinan: I think the fact that nothing came of it speaks better than anything else to the fact that nothing was really happening. And as it was two people, on personal, mature land, enjoying themselves together, Well… people will go to great lengths to try and smear us as a group. Personal attacks are a time-honored tradition. What two adults do in their own homes on their own time is their own damn business. It's just an attempt to cause drama. LL is quick to ban ANYTHING resembling ageplay. Hell, look at the fifth birthday drama. The fact that both of the people are still around tells you what LL thought of it.
---
So the possibility of chatlog fabrication or doctoring cannot be discounted, particularly given the tense state of affairs between the various metaverse militia – certainly an organized effort seems to have been mounted to abuse report ex-Admiral Mahfouz.
A number of questions remain – given the apparent long-term relationship between Mahfouz and Poutine and the presumption that they are both adults — is engaging in some improvisational literary activities free speech, or have they crossed the line into broadly offensive behavior? Is double-cocked ageplay in textchat is an issue for Linden Lab? What if one of the participants has a tail?
Happily for the ex-Admiral, none of this appears to be grounds for permanent removal from the Alliance Navy – if you own the land the base is on.