by Alphaville Herald on 24/09/08 at 7:23 am
by Pixeleen Mistral, Subrealism Affairs desk
Outside Hurfzateer HQ in the W-hat's sim "what", a solemn vigil was held Friday September 19th, to observe the second anniversary of the great goon holocaust of 2006.
A small crowd gathered near the grave sites, and took a few moments from running "talk like a pirate day" animations to consider the fate of the Voted 5 group and Satyr sim – for on this day in 2006, the entire sim of Satyr was repossessed by Linden Lab and all objects in Satyr were deleted.
At the same time time Satyr was wiped clean, Philip Linden told the metaverse that a grid crasher crackdown had taken place and some 60 accounts were perma-banned. Friends and relatives of the notorious Voted 6 group could only identify the names of 22 accounts that had gone missing – not surprising given king Philip's tendency to perhaps accidentally overstate figures on occasion.
Immediately after the destruction of Satyr, the W-hat goons vowed to "Never Forget" and erected a memorial to the fallen which said, "This Memorial stands so that we may remember those that lost their accounts, of the innocent furs and humans alike that were lost to us".
Of course, 2006 was in many ways a simpler time, as Gene Replacement passed time by using the mega-prims he had recently invented for some skywriting over Satyr.
Still, there was a sense that change was in the air, and W-Hat goons worried that 4chan /b/tards might get bored with Habbo Hotel and migrate to Second Life. The mass pool closings that followed in the wake of the /b/ immigrants to Second Life only underscore the prophetic words of Dano Plisskin who warned me two years ago, "never underestimate the power of retard in large numbers". Ironically, the destruction of Satyr was followed 9 months later by the destruction of Woodbury sim as history repeated itself.
And so on this solemn day, I considered the fate of those who anger the game gods and feel the force of the ban hammer – they may perish, but their friends and alt accounts will never forget.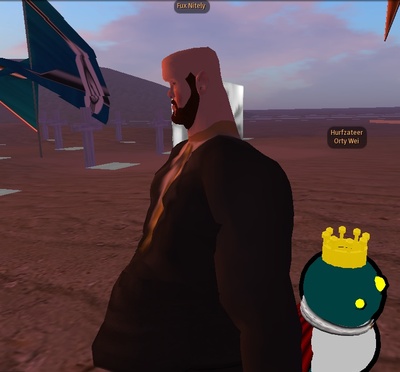 two mourners near the gravesite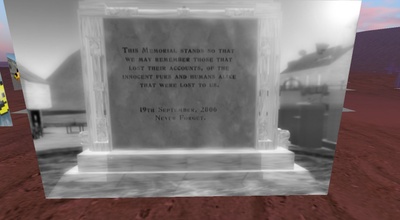 black and white photo of the original memorial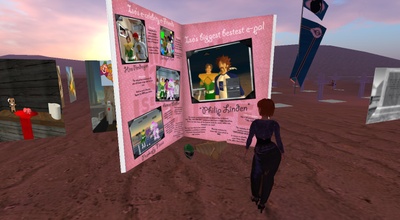 Isometric Bedlam's scrapbook of e-friends included Philip Linden – before Philip used the ban hammer on Mr. Bedlam