by Alphaville Herald on 29/11/09 at 3:07 pm
by Pixeleen Mistral, National Affairs desk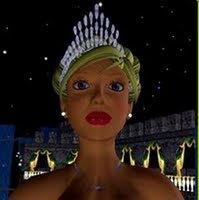 The Princess of Yaximixche is embarking on an ambitious tour of virtual worlds beyond Second Life from December through February 2010. The tour marks Her Royal Highness's first major public appearances since failing gravely ill during the summer of 2009, according to the Royal Press office.
Over the next ninety days, Her Royal Highness will visit 9 Virtual Worlds focused on content creation and other sectors, including stops in Twinity, Blue Mars, HiPiHi, i-Citizen, ActiveWorlds, VastPark, Mycosm, Multiverse and Opensim grids.
Is the Princess hedging her bets on Second Life?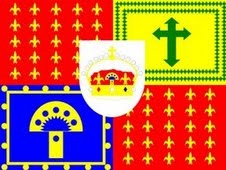 The Princess of Yaximixche´s Royal Standard
Long time observers of the Palace of Yaximixche suggest Her Royal Highness may be considering expanding her empire, and point out that in 2008 the Princess opened The Palace of Gukumatz to the public in Google's Lively virtual world. However, when tentacle porn proved to be less of an attraction than hoped by the Google panopticon ad agency benevolent free service provider, Lively was terminated – a natural disaster that destroyed The Palace of Gukumatz.
In any case, the new media savvy Princess seems willing to adapt and move on, and is now providing minute by minute updates on the HRH Princess Yaximixche twitter channel. A facebook page also compliments the royal website.