by Alphaville Herald on 27/02/10 at 1:12 pm
Class action complaint against Linden Lab leads to avatar of the year award
by Pixeleen Mistral, National Affairs desk
In 2009, there was no question of which the players had the biggest impact on the metaverse. After lawyering up and heading to the courthouse, virtual sex toy entrepreneur Stroker Serpentine and noted avatar skin and clothing designer Munchflower Zauis alleged, "Linden Lab, with knowing and conscious intent to do so, profits in multiple ways and at multiple stages from the illegal conduct" in a class action complaint against the Lab.
Unlike the usual in-world player whinging and role play bluster, Serpentine and Zaius augmented their reality by putting the Linden game gods on notice that he Lab's seemingly lassiez-faire approach to copyright and trademark infringement was unacceptable.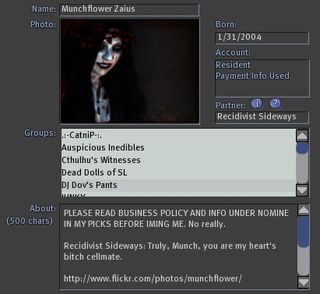 Their complaint detailed the trials and tribulations of Second Life content creators who's virtual goods are routinely copied and resold by those who have sidestepped the Second Life digital rights management controls, and sent the Lab scrambling for legal representation. Although the Linden's first choice lawyer proved to be too expensive, the Lab ultimately found council, and the legal wrangling began in earnest.
Among the telling point made in the complaint are the ineffectual nature of DMCA takedowns in Second Life: "A Second Life pirate who becomes subject to a DMCA takedown notice will usually not challenge it, but rather will simply create a new free account and re-upload the content, employing the tried and true whack-a-mole approach." Herald readers may recall a recent episode involving motorcyle parts which illustrates this issue.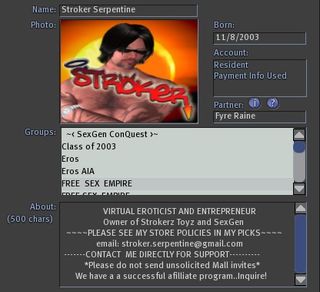 It is hard to imagine a more difficult public relations situation for the Lab as major in-world businesses take to the courts for fundamental change in a case that seems likely to continue on for some time.
With Serpentine and Zaius's lawyer Michael Aschenbrener of the KamberEdelson pointing out the suit is about "protecting the rights of content creators against piracy" and Serpentine bemoaning "a pattern of ambivelence over six years. We want fundamental change in the regard to the very content and creators that made SL what it is today", the 2009 avatars of the year personified a major change in attitude toward the game gods among content creators – and a willingness to turn the game upside down to bring change to the virtual world. Not surpringly, this attitude and approach has drawn the wrath of the Linden fanboy contingent.
The Herald staff congratulates Zaius and Serpentine on their achievements and hopes the legal situation will ultimately be equitably resolved. Meanwhile, feel free to make and distribute multiple copies of the Herald's 2009 commemorative plywood cube avatar of the year trophy to friends and family – this is an award that most players can only dream of receiving.