by Alphaville Herald on 11/09/07 at 10:29 pm
"banning griefers is a worthless excercise" – ACS Dreamland
PN rumored to be preparing megaprim-based weapons
by Pixeleen Mistral, National Affairs desk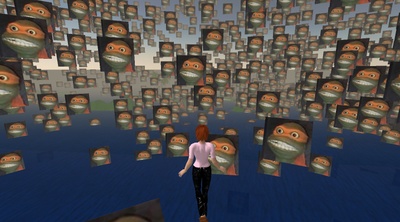 Dreamland construction forgot to auto-return the particle spam emitter
The landlord's role in the Second Life virtual land business may be getting a bit more challenging. Consider the group notices from Anshe Chung's Dreamland over the last week. ACS Dreamland is the largest land rental/resale operation in the metaverse and are presumably expert at virtual land management. Despite their expertise, a certain note of desperation is evident in the messages sent to Dreamland residents.
September 6th, Dreamland honcho Master Quatro observed that "banning griefers is a worthless exercise" because "we have almost 600 sims and are only allowed 300 estate bans". This raises the possibility of reverse economies of scale – all estates in SL have the same size ban list, but super-sized land barons have more targets for griefing.
After a weekend of amusing or exasperating pranks – depending on your perspective – Mr. Quatro sent a message yesterday suggesting, "it's time for another public letter to the Lindens about preventing this abuse but at least taking care of it when it happens". I'm a fan of Master Quatro – but if the last open letter to the Lindens was a dog, the furries I know would say that dog don't hunt. What is going to make the game gods pay attention this time? Residents holding their breath until they turn blue?

shortly before Tanadar Mighty was disappeared by Linden spooks – along with all his prims
Master Quatro's call for more letters to the Lab appeared on my iMojo wire while I was in-world so I teleported to Dreamland hoping for some pictures, and found that Mr. Quatro was right when he said the Lindens "have done nothing in an hour since it was reported". I had a great time flying though particle spam originating from Dreamland construction-owned sims – perhaps the construction workers didn't get the memo about turning on auto-return? Paying residents of Dreamland were sent a message September 4th, begging them to set autoreturn on their land so that griefer's objects would not persists in the upscale community. Good help is hard to find.
---
rumors of the "tree"
---
After flying though blizzards of particle picture spam got boring, I contacted an unverified resident who claims ties to the Patriotic Nigras griefing group – but prefers to remain unnamed. My source said that the particle spam I was seeing outside Dreamland's central sim was nothing special – instead I should be concerned about a much more serious weapon currently under development by the PN – the "tree".
According to my source, the "tree" uses self replicating megaprims to quickly cover entire sims. It is unclear if this is possible, or if my source was simply role-playing, but self-replicating megaprims might well be able to span no-build plots, and cover large areas with a small number of prims – the sort of approach that could sidestep the Linden's grey goo fence.
Does this mean we are facing the imminent destruction of the metaverse? This seems unlikely. The more successful a self-replicating prim attack is, the faster the culprit can be identified, assuming the ownership of the automatically reproducing prims is not faked. Once you cover the world in your prims the evidence is everywhere. Of course, this presumes that the Lindens are actually responding to abuse reports — based on Master Quatro's comments there is some question about Linden responsiveness.
Predictably, the next act in this theatrical production will be calls for mass bans of any groups that might perhaps possibly be associated with the troublemakers. That will buy all of ten minutes peace while the contestants in the stupendous ironic badass race create new alt accounts. Why was it the Lindens decided they don't need billing information on file for new players again?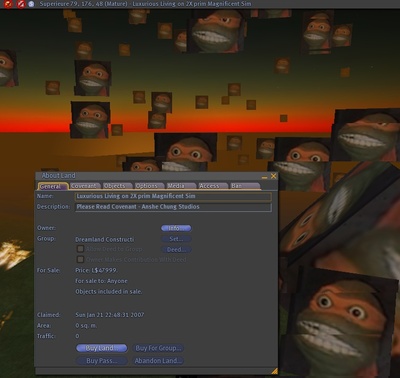 ---
8:37 am September 11:
Group Notice From: Dreamland ACS
We have returned the replicating objects that griefers left all over Dreamland yesterday. Please IM Master Quatro if you have any remaining objects still flying around your property. I will remove them promptly.
This attack was not limited to Dreamland. Many sims were affected grid-wide.
Thank you for your patience.
MQ
---
6:07 pm september 10:
Group notice: Grid Wide Griefer Attack
Group Notice From: Master Quatro
The present griefing attack is happening on hundreds of sims all over the SL grid. It is not limited to your sim nor to Dreamland. It's all over the grid. I think it's time for another public letter to the Lindens about preventing this abuse but at least taking care of it when it happens. They have done nothing in an hour since it was reported.
MQ
---
5:22 pm september 10:
Group notice: Griefers Self Replicating Prims
Group Notice From: Master Quatro
Please right click on one of these objects if you see it, then click "more" "more" "Report Abuse" .. Maybe if enough of us complain they will do something about this.
MQ
---
september 6:
Group notice: Estate Banning of Griefers
Group Notice From: Dreamland ACS
We have almost 600 sims and are only allowed 300 estate bans. Banning griefers is a worthless excercise since they have hundreds of alts and switch from one to another quickly thus rendering our bans useless. The best protection you have is to use autoreturn and/or land tools options to prevent their objects and replicating scripts from landing on your land. Please use them or ask an angel for help on how to set them.
MQ
---
september 4:
Group notice: ONLY YOU CAN STOP GRIEFERS !
Group Notice From: Master Quatro
We have asked you to set autoreturn or use options to prevent griefers from dropping objects all over your land. If you are unwilling to do that then we can't help you when griefers attack your land and leave all this garbage. Access restrictions and security orbs don't help you. SET AUTORETURN or use LAND OPTIONS to prevent a mess on your land. Call an angel if you need help with this.
MQ
---