by Alphaville Herald on 30/11/07 at 7:07 am
Better uniforms, multi-prong strategy, and Mercanzeteer alliance
by Pixeleen Mistral, National Affairs desk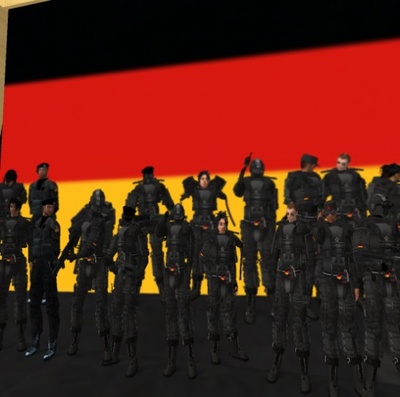 Early in 2007, a series of violent pro- and anti- Front National (FN) protests sparked by Jean-Marie Le Pen supports' in-world presence ended up on the doorstep of the Modern German Army in SL – creating what the German Army referred to as 'unbearable French lag' at their base in Porcupine sim.
Since those dark days in January, the New German Army has been adapting and refining its uniforms, weapons, and tactics to become a formidable foe for those who might try to reign in its expansion. While it is reported that the Mercanzeteer militia has taken a policy of appeasement toward the Germans – is this really a wise course? More importantly, what is the secret to the German's success? Tristan Mineff recently took a time for an exclusive interview with the Herald. What I learned may give other armies pause – can anyone stop the German army's expansion? What will this growing threat do to the shaky balance of power between SL militias?
Tristan Mineff: Hai thar, Frau Mistral.
Pixeleen Mistral: Hi Tristan – what's new?
Tristan Mineff: the German Army. we Rebuilt.
Pixeleen Mistral: really? how is that going?
Tristan Mineff: we are now a potential counterweight to AN and mercz power.
Pixeleen Mistral: seriously?
Tristan Mineff: indeed.
Tristan Mineff: In fact, we defeated AN's old ally.
Tristan Mineff: AM. SLSN. and DAE. even got new uniforms.
Pixeleen Mistral: the new uniforms look nice
Tristan Mineff: Yeah, i like them. KC made em. he's a good builder. made them in like a day.
Pixeleen Mistral: so you have a good builder – how about scripters and weapons experts?
Tristan Mineff: Yep. Our people are now Veterans of real life too. We have anakin boyd. he scripts for us. Chaos Kilara. Makes realy nice weapons for us. We have 10,500 square meters of land.

the "Deutscher Prasident of one of the Best armies in Secondlife"
Pixeleen Mistral: you must have good financing
Tristan Mineff: We run completely off donations. We just have really cool people that like to help us out.
Pixeleen Mistral: how many people in the army now?
Tristan Mineff: like 150.
Pixeleen Mistral: you have been recruiting!
Tristan Mineff: indeed.
Pixeleen Mistral: what do the AN and Merc say about all this?
Tristan Mineff: Hmm. AN doesnt bother with us anymore. they concern themselves mostly with Merczateers. we don't bother them right now anyway. as for merczateers…
Tristan Mineff: "[8:37] Salvatore Noriega: we have some problems with merczateers and heard that they piss in their pants when they see you so we thought it would be good to ally with you".
Tristan Mineff: Basicly that sums it up.
Pixeleen Mistral: sounds like you are gathering your strength
Tristan Mineff: Yeah, we need to gather a lot of strength to become one of the bigger armies. We are definatley in the top 3.
Pixeleen Mistral: I'm glad you got more land – that was pretty bad when you were stuck by those french guys lagging up the sim
Tristan Mineff: Yeah, It was a loong time ago. Frenchies left when we sold land. Our luck. Lol. We needed the money anyway, we had land offers elswhere.
Pixeleen Mistral: so where is your base now? which sim?
Tristan Mineff: Oh we have 4 independent parcels. 3,000 meters in Malvern.
Pixeleen Mistral: smart – you have multiple bases
Tristan Mineff: Yeah. Kinda hard to defend 4 independent bases. But it is easier because we can have different base's for different things. the one in Malvern, is a training base.
Tristan Mineff: 3,500 meters in Chiaksan is Headquarters.
Tristan Mineff: we have 2,500 meters in Ddalgi. Basicly just a place for the Divisions to Organize.
Tristan Mineff: Another 3000 meters for Our biggest branch. the Luftwaffe. its also a building site.
Pixeleen Mistral:wow
Pixeleen Mistral: it must have been hard work to do all this. I mean its not easy to organize this sort of thing
Tristan Mineff: Aah, i have very good commanders for that. I don't do it all alone. We rely a lot on co-operation. Other armies simply say. "TP here, we are attacking". we order our Divisional groups to different areas in prong'd attacks. Thats what is leading to our late success's.
Pixeleen Mistral: so strategy is your secret weapon
Tristan Mineff: Indeed. Other armies claim Discipline, Co-operation. we simply claim, We are friends and comrades, and we use Strategy. Not discipline.
Pixeleen Mistral: that makes sense – it allows for more flexibility
Tristan Mineff: Indeed, our people are more willing to listen to commands. We ask that our soldiers question orders. Because it ensures that Problems the commander didn't forsee are Fix'd.
Pixeleen Mistral: sounds like it could be more fun, too – getting bossed around all the time is not my idea of fun