by Alphaville Herald on 21/02/10 at 6:03 pm
Kalel Venkman suffering from incomplete immersion or over-augmentation?
by Pixeleen Mistral, National Affairs desk
In a story titled O Superman the eggheads at SL Shrink analyze Justice League Unlimited leader Kalel Venkman and seem to be asking if the DMCA wielding role play super hero – or super thug? – might be suffering from some sort of toxic immersion in the virtual world he has created for himself.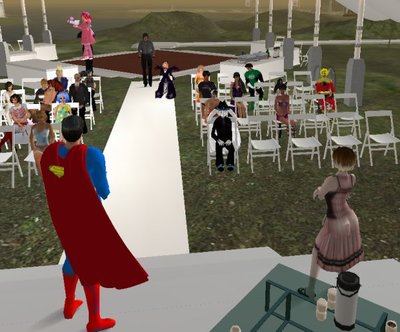 Kalel Venkman – an avatar dressed as superman (file photo)
Warning Venkman against trading away the gripping narrative he has in Second Life, SL Shrink cautions that "while projection of real-life neuroses into the metaverse may be illuminating, I'm much less convinced that allowing in-world dynamics to leak out and influence one's external behaviour can be anything other than harmful. This may be a lesson that Kalel Venkman, or at least his mortal alter-ego, is about to learn the hard way."
Mr. Venkman recently endeared himself to the Herald by ignoring the Copyright fair use doctrine to file a series of DMCA takedown requests against the Herald in an attempt to muzzle press coverage of what appear to be significant abuses on the part of the Justice League Unlimited.
The abuses were brought to light after the JLU's secret wiki was leaked by a JLU member, revealing troubling involvement by at least one Linden staff member in the JLU's covert surveillance and player harassment activities.
While Typepad removed the disputed material under the DMCA safe harbor provisions, the Herald has a DMCA counter filing pending and awaits either real life legal action or the restoration of the disputed materials. As of this writing the Herald has heard nothing from Venkman – and another site targeted by Venkman continues to host an indexed version of the leaked JLU Brainiac wiki.
Why has superman gone quiet? SL Shrink suggests that Venkman "may be having second thoughts about the potentially expensive escalation of hostilities that he has initiated".
The money quote from SL Shink puts it all in perspective: "Venkman appears to have lost sight of the boundary between the virtual world and the real. The role of 'Venkman' has become so important to his self-image that he is unable to see the Herald's story for what it is - a chance to build on the mythology he has already established, an opportunity he should welcome – and instead regards it as a threat to his real-life identity, one which must be countered with a real-life action, regardless of the fact that such action risks destroying his existence, both virtual and real."