by Alphaville Herald on 29/05/09 at 8:16 am
Frustrated cheerleader shoots Data Linden — Lab blacklist blamed as thousands seek repairs for nerfed sexbeds
by Pixeleen Mistral, National Affairs desk
In mid-april, thousands of residents of Second Life discovered the avatar animations in their virtual sex beds were non-functional – a disaster of epic proportions for players interested in working through the Kama Sutra of Second Life with a close friend or two.
The cause of the cartoon world coitus interruptus appears to have been a Linden Lab blacklist and deletion of a key script in Stroker Serpentine's toys. While shooting victim Data Linden and the broken beds are expected to make a full recovery, the episode raises troubling questions about the Lab's control over user generated content and the uncertainties of business in the virtual realm.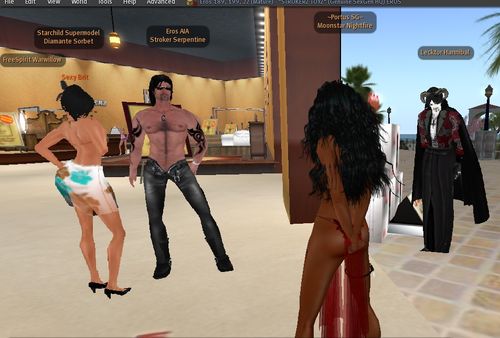 Stroker Serpentine prepares for more customer service work
According to Mr. Serpentine, on April 14th Linden Lab blacklisted a data loader script that caused thousands of his Strokerz Toyz products to stop working – a customer support nightmare for Mr. Serpentine. The nightmare was shared by Cheergirl Allen who retails a line of Bimbo Cheerleader branded sex bed that use Mr. Serpentine's scripts.
The worldwide script deletion incident apparently had nothing to do with upcoming adult content controls from Linden Lab – but it is puzzling how Stroker's scripts could have been deleted at all. According to a reliable source, blacklisting and expunging of scripts or objects from Second Life requires sign off from a Lab supervisor so that over-eager first tier support does not accidentally remove  important features of the world.
Whatever the cause, the magnitude of the problem is frightening to contemplate – each nerfed bed must be repaired by hand, and the initial crush of repair requests swamped Mr. Serpentine's operation. Former business partner turned competitor Corsi Mousehold caught some of the overflow of Strokers customers and helped as best she could – and picked up some new customers of her own in the process.
Cheer Power and Data's pride leads to Linden orbital free-fall
Once the cause of the problem was identified, Mr Serpentine and Ms. Allen worked with Linden Lab staff to recreate the missing scripts and a repair kit was created for the borked beds.
Some suspect that Data Linden was enlisted to help restore the missing sex scripts based a page in Cheergirl's facebook posted April 19th. Or perhaps Data Linden, Cheergirl Allen, and Stroker Serpentine always get together to inspect plywood cubes. In any case, Data's shield was no match for Cheergirls second shot.