by Alphaville Herald on 28/08/07 at 9:12 pm
Herald tabloid sensationalism shamed by Linden church-picnic — SL family values rule, OK?
by Urizenus Sklar, media critic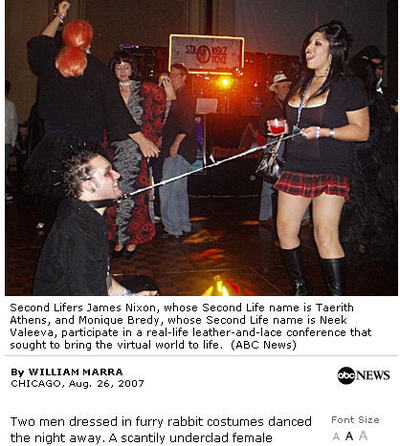 Stung by recent media claims that Second Life is all about ageplay, gambling, gorean slavery, sex furniture, bdsm arms merchants, yiffing furries, vampires, vore, and gynophagia, Second Lifers struck upon an ingenious solution to the problem: Have a party in which they show off how normal they are and invite ABC News and other national media outlets. According to the article on the ABC News website, Chicago Bears fans were particularly impressed by the show family get together. We quote:
Two men dressed in furry rabbit costumes danced the night away. A scantily underclad female vampire gleefully played dominatrix to a male vampire who obediently sat on the floor and mischievously snarled at her. A man wearing retractable wings showed off his stuff, while another in a see-through top went around spanking people with a wooden paddle.
"It's just like being online at a party," said Marsha Ellstrom …
…In the lobby of the Chicago Hilton hotel, as leather-and-lace-clad Second Lifers made their way to the evening's ball, many people wearing Chicago Bears jerseys, fresh from the Bears game at Soldiers Field Saturday night or the fantasy football conference also at the hotel this weekend, stood and stared at the spectacle. Most of them said they had never heard of Second Life, and they did not seem particularly eager to join the community.
"Second Life isn't for everybody, right now," says [Electric Sheep's Giff] Constable.
Ah Giff, you are so droll. You fill me with mirth. And lulz.