by Alphaville Herald on 19/01/08 at 7:34 pm
by Pixeleen Mistral, National Affairs desk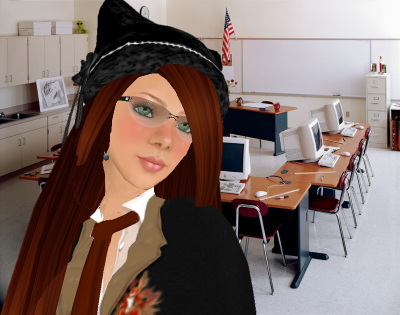 Tizzers Foxchase – before the perma-ban
With the hustle and bustle of the year-end holidays well behind us, and memories of the Herald editors' lavish Zermatt skiing vacation fading, it is time to clean up the last few loose ends from 2007 – the avatar of the year awards. Once again, the Herald editorial board is entrusted with a sacred responsibility — naming the three avatars who most changed the news and the metaverse for better – or for worse.
For 2006, third place went to Mr. Mark Barrett for his contributions to dystopian surreptitious citizen surveillance systems. This year, Tizzers Foxchase is awarded third place for outstanding achievement in a number of fields, including her educational work in the Woodbury University sim, her part in converting an Alliance Navy base into a furry death camp, her appearance as a Post 6 Grrrl in the pages of the Herald, and her ongoing critiques of the serious business that "anti-griefers" such as Justice League Unlimited have undertaken.
Unfortunately, 2007 was a difficult year for Ms. Foxchase. While early accounts of Woodbury sim praised its educational mission, the Woodbury University group in SL was eventually targeted by some members of SL society for harboring less than desirable elements, and Linden Lab ultimately resorted to deleting the entire sim – a sobering reminder of the limits of educational activities in the metaverse. Observers speculate that the sim's removal from "your world, your imagination" was prompted by a combination of PN griefer attacks on the sim and an organized Justice League Unlimited abuse reporting campaign. It is also probably safe to assume that Prokofy Neva put in a few words with his super-friend Robin Linden.
Despite the deletion of the Woodbury sim, Tizzers maintained an upbeat attitude, and even enjoyed a brief metaverse marriage to Hazim Gazov – including a honeymoon celebration in one of Prokofy Neva's rental love nests. The honeymoon ended abruptly however, as the virtual land rental agent turfed out the lovebirds as undesirable tenants.
Throughout the year, a certain style has marked Tizzers' path through the metaverse, as she won the goon and griefer swimsuit competition in 2007, and with it the right to appear as a Post 6 Grrrl in the Herald — along with the hearts of untold numbers of /b/tards.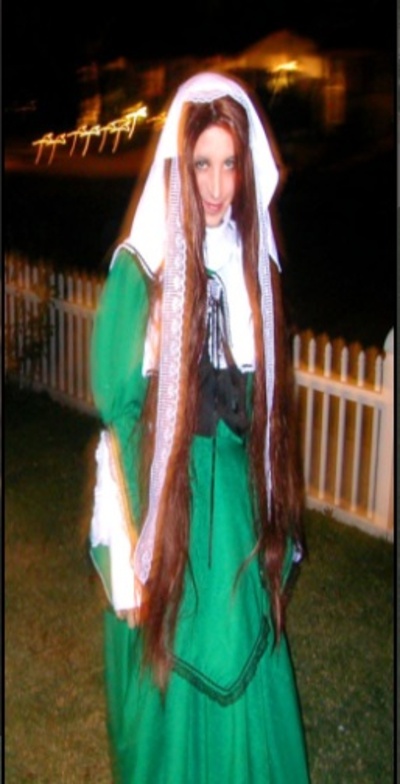 Tizzers goes real life trick or treating in costume as Suiseiseki (aka desu desu desu)
More recently, Tizzers' RL typist went trick or treating at JLU leader Kalel Venkman's house on halloween. Unfortunately, this event resulted in a two week ban which then precipitated a perma-ban from Second Life for "disclosure". Despite a written appeal to Linden Lab, the perma-ban has been upheld – reportedly because Cyn Linden overruled Michael Linden.
Even after the perma-ban, Tizzers' has been an active contributor to the Banlink parcel ban system used by a number of in-world landlords – recently banning Kalel Venkman – perhaps in retaliation for Venkman's role in her troubles. While Tizzers Foxchase may no longer grace the metaverse, she certainly changed the world in 2007.